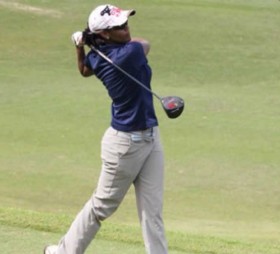 Talented Bermudian golfer Ebonie Burgess has signed on to lead the CP Athletic Development Academy [CPAD] golf program.
On the heels of her 2015 amateur match play championship win, which saw her retain her title from the previous year, Ms. Burgess says she is "extremely excited" to be in a position to introduce young athletes to the game.
Ms. Burgess, who has previously competed at international tournaments, is currently working towards qualifying for the 2015 Natwest Island Games which will take place in Jersey this June.
Her first program will launch in April and will be a partnership between CPAD and Bermuda Education Network [BEN] with a group of eight girls from BEN's Horizons program at Northlands Primary.
Ms. Burgess said, "I am extremely excited to begin my new role with CPAD. I look forward to helping young children reach their full potential through sport and I am particularly happy that I can introduce golf to young athletes and give back to a sport that has done so much for me as an athlete and more importantly as a person."
A spokesperson for CPAD said, "CPAD's strategic plan includes the structured launch of a golf program, a sport which is entwined in all facets of social and corporate activities, and we are beyond ecstatic to have Ebonie direct this initiative.
"Our pilot Girls in Golf program will be the launching pad for many more initiatives in the sport."
Read More About