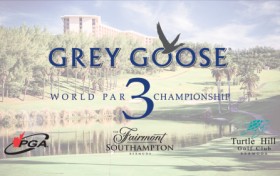 With gusting winds of 85km/h, players faced a daunting test of golf at the Fairmont Southampton's Turtle Hill Golf Club for the first round of the Grey Goose World Par 3 Championship today [Mar 28].
However, Thomas Curtis wasn't flustered by the blustery conditions. The 29-year-old Englishman posted a 2-over-par 56 and leads the championship by two shots over six-time European Tour winner Anders Forsbrand.
Curtis' first round featured three birdies, three bogeys and a double-bogey. One-year ago Curtis was T2 after the first round before falling to T6 at championship's end.
American James Hazen, three-time European Tour winner Miguel Angel Martin, former Ryder Cup member and five-time European Tour winner Barry Lane, and last year's winner Mark Mouland are T3, three shots off the pace.
Jimmy Lytle, Nicholas Beddows—both of the United States—and Bermudian Michael Sims are T7 at 6 over. Eight time European Tour winner Gordon Brand Jr.; two-time European Senior winner Philip Golding; American Joe Horowitz; PGA of Canada member Jean LaForce; eight-time European Tour winner Bill Longmuir; Bermudian Dwayne Pearman; and Camiko Smith, also of Bermuda, round out the top 10 at 7 over.
Mouland, who won the last year's championship in conditions far tamer than what players faced today said the gusting winds Saturday at Turtle Hill were wild.
"This is literally the toughest winds I've ever played in," said the two-time European Tour winner. "If someone told me on the first tee that I would shoot five over, I would have taken it without thinking twice."
In addition to the professionals in the championship, the 110-player field is rounded out by an impressive list of amateur golfers—from Bermuda, the United States, Canada and Europe—vying for titles in the men's, women's and senior amateur divisions.
Bermudian Mark Phillips leads the men's amateur division, while Heather Fudge of Canada leads the women's amateur division. In the senior amateur division, Eldon Rayner leads.
With a total purse of $75,000, the champion of the Grey Goose World Par 3 Championship will take home $20,000.
For the full leaderboard, click here.
Read More About