The Bermuda Arts Centre is getting set to host a precious metal course with Mary Tatem, teaching attendees to work with precious metal clay  in creating jewelry pieces.
The event flyer said, "It's time for another precious metal course at the Bermuda Art Centre with Mary Tatem. She has also worked with just silver…precious metal clay and sterling silver in the different courses taken at Corning Glass Studio in Corning NY.
"The next class being offered will be to work strictly with pmc+. We will not be fusing glass and using pmc+. Instead, the pieces you design will be created from this clay, which is infused with millions of tiny bits of silver."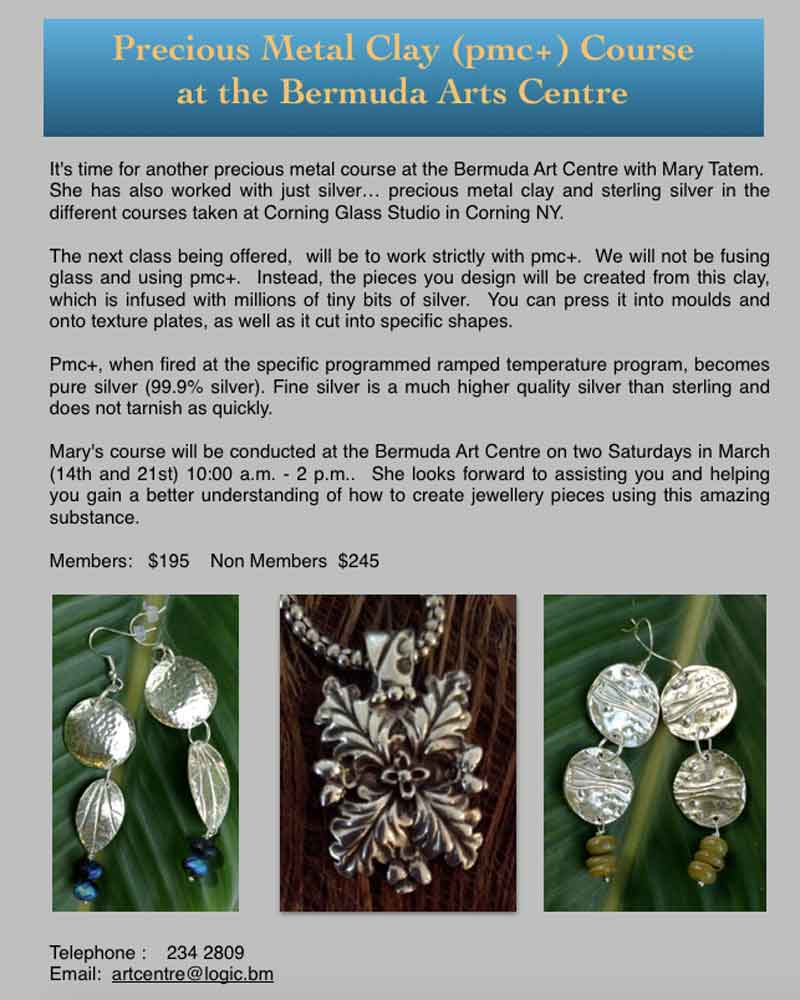 "You can press it into moulds and onto texture plates, as well as it cut into specific shapes.
"Pmc+, when fired at the specific programmed ramped temperature program, becomes pure silver [99.9% silver]. Fine silver is a much higher quality silver than sterling and does not tarnish as quickly.
"Mary's course will be conducted at the Bermuda Art Centre on two Saturdays in March [14th and 21st] 10am – 2pm. She looks forward to assisting you and helping you gain a better understanding of how to create jewelry pieces using this amazing substance."
Taking place from 10.00am through 2.00pm on Saturday, March 14 and Saturday, March 21, the course costs $195 for members and $245 for non-members. For more information, call 234-2809 and artcentre@logic.bm.
Read More About
Category: All, Entertainment