A Cannabis Reform Rally is being held today [Apr 20] at Parliament, calling for the "decriminalization, regulation and tax [or other reform] of cannabis."
"Are you in favor of the decriminalization, regulation and tax [or other reform] of cannabis? Want to find out what effective cannabis policy could mean for Bermuda? Do you feel prohibition of cannabis is effective?," the event's Facebook page says.
Some of the attendees at today's event: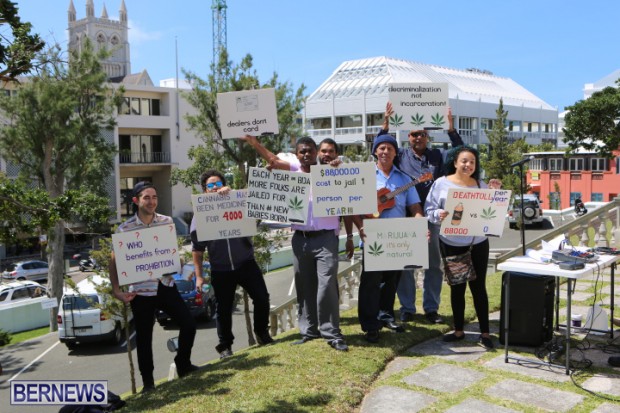 "Would you like to communicate with those in favor of prohibition reform? Are you concerned with the ease of access children have to cannabis during its current prohibition? Are cigarettes and alcohol more or less dangerous than cannabis for Bermuda's health and safety?
"Want to find out what all this fuss is about? If you have a curiosity toward any of these questions come by the western hill of the Parliament Building in Hamilton for information, dialogue, and input from and with the public on this controversial topic.
"Don't be afraid to take a stand if you want cannabis reform. Please note that this rally is not on behalf of any political party or organization. This is a rally encouraging discussion, reform, and a common sense approach to a subject that is still very taboo to constructively discuss in Bermuda."
Audio of event organizer Ananda Hill:
Event organizer Ananda Hill said, "I felt that this is long overdue, cannabis reform, and the longer we wait, the more people are going to jail, the more people are not going to have a fresh start at employment once they get out of jail, the more time that the judicial is going to be wasted.
"You have to ask yourself at one point: who's paying for all of this stuff? We're hurting ourselves as a country with the laws that are in effect right now."
Senator Jeff Baron attended the rally, saying "I firstly came up here – I know a lot of these gentlemen here, I consider some of them friends – was to show them some respect and say 'I appreciate this issue is not only a social issue, but also a government issue.'
"So I wanted to come up here, again, to show them respect, and let them know and remind them that our door's open, when we're talking about drug policy reform, our door's open. When we're talking about any social issues as well."
Audio of Senator Jeff Baron:
Senator Baron added, "So it wasn't just to come up here and say 'hey, best of luck with your endeavours,' it was, again, to remind them that we're committed to sitting down at the table and talking about the next few steps forward with what we're doing with regards to our drug policy reform.
"We may not agree on everything, but working together is always the best option."
When asked about the backlash that government has previously faced from some people regarding reform, he said, "There was also a wide amount of support for the steps that we've taken and, of course, no matter what decisions you make, or the Premier makes, we're always going to get some in the community who say 'they should have done it this way or they could have extended it a bit more.'
"But again, like I said, the reason that I'm up here is to remind everyone that I'm committed, we're committed, this government is committed, to sitting down at the table. I don't want to use the word collaboration; it's now a buzzword, but look, at the end of the day, that's what it is.
"We're sitting down and we're saying 'hey, I like that idea, I don't like that idea.' But respectfully sitting down, looking at each other, and saying 'what is the best way forward on this and let's discuss the wider implications.'
"And that's really why I'm up here and that's what we have been doing as a government, so that's really what this is about. Not just today."
A flyer being made available at the Rally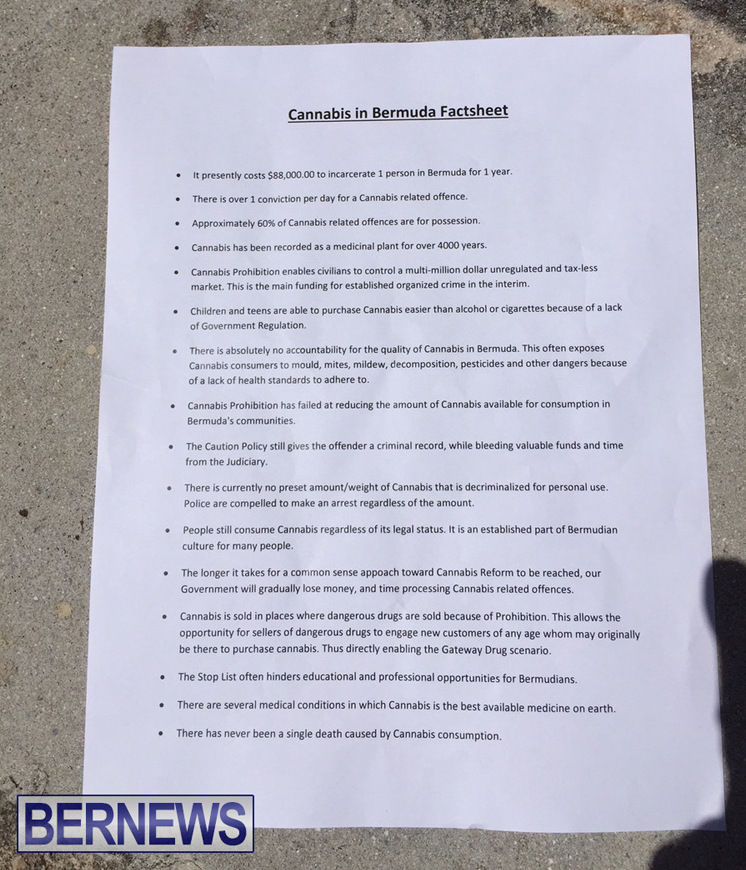 Update 6.23pm: A tweet from Opposition MP David Burt today saying, "Bermuda, where we criminalise our citizens and tourists for possession of a plant. Hopeful in 2015 we will end this practice."

#Bermuda, where we criminalise our citizens and tourists for possession of a plant. Hopeful in 2015 we will end this practice. #Happy420

— David Burt, MP (@DavidBurtMP) April 20, 2015
-
Read More About