Lance Furbert has been acknowledged as a "Hospitality Hero" by Imagine Bermuda during BHI's Hospitality Month, with Mr. Furbert saying that the recognition was a surprise, adding "I'm thankful that somebody recognizes something that I've done and thinks that it's worth something."
Mr. Furbert's first full-time job, taken at the age of 14, was as an apprentice butcher at Palm Grocery in Devonshire under Tommy DeSilva. He was known for excellent time-keeping until his love of music took hold.
Mr. Furbert had been learning to drum when he had the opportunity to hear a lunchtime jam session of the Duke Ellington Band at the Musician's Club on Angle St. In that crowded venue, Mr. Furbert ended up sitting next to world-famous drummer Sam Woodyard as he played. He had planned to leave at 12.45pm to return to work, but when looked, it was 5.15pm.
Mr. DeSilva suggested that Mr. Furbert follow this passion. He got that opportunity when noted pianist Lance Hayward asked him to join a trio to back Gene and Pinky Steede at a concert at Rosebank. Pianist 'Red' Smith heard that set and invited the then 16-year-old young man to join him full-time, playing at Waterloo House.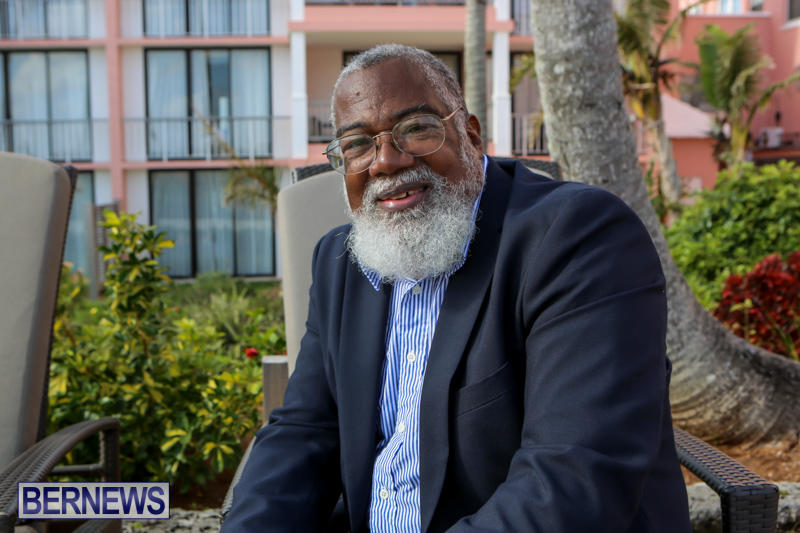 During the early '60s, tourism was going well with live-entertainment in demand. The Musicians' Club provided almost 24/7 opportunity for honing skills, with both local and visiting musicians. Mr. Furbert benefited, joining the sessions in a climate of hospitality created by many mentors; including his uncle Norman Astwood, a noted guitarist.
His passion was centered on a quest for knowledge and he quickly developed in the nurturing environment of the times. However his father became concerned about the 'influences' on the club scene, and recommended that the young man 'get a steady job.' For a year or so, Mr. Furbert worked at the Sonesta Beach Hotel, but music still called.
He subsequently joined the popular Arpeggios, winning over his father with an income 300 percent more than his elder.
It was with this group that Mr. Furbert had his first opportunity to play at the historic Forty Thieves in the mid '60s. This was the hey-day, when top U.S. artists would gig at The 40, and the Arpeggios opened the shows.
After enjoying this success, Mr. Furbert subsequently joined the Bermuda Strollers, leading to an opportunity to travel.
Mr Furbert giving Princess Margaret a tour of Windreach's Nature Trail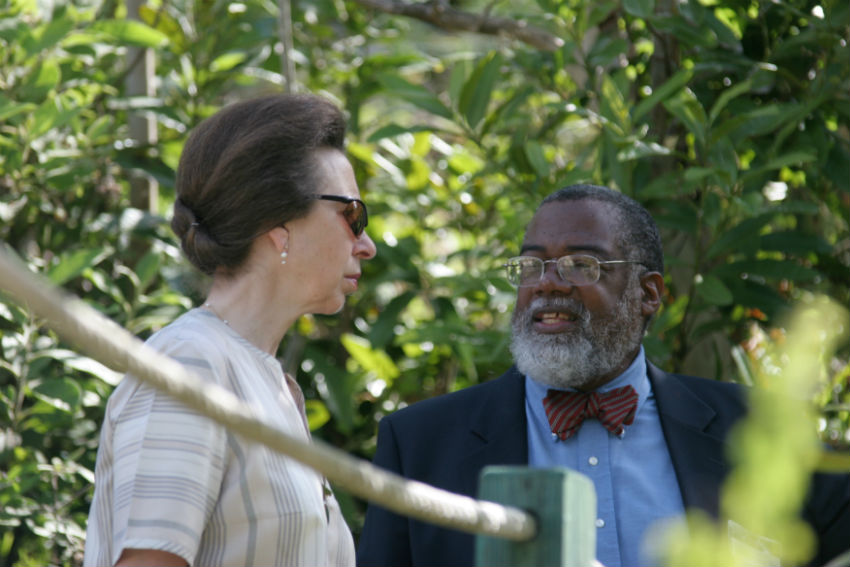 In addition, the group had an emergency need for a bass player, to ensure their overseas venture. Mr. Furbert's love of learning led him to take up that challenge and, with the tutelage of his Uncle Norman, he successfully made the transition.
The Strollers spent the better part of a year on the road along the east coast and Canada. That grind 'sharpened their saw' and they returned triumphantly to Forty Thieves. After a period, Mr. Furbert decided to return abroad and played either drums or bass with a variety of bands across the east coast and Canada.
Mr. Furbert returned to the island in the early '70s and played bass with the Milt Robinson Trio at Hamilton Princess for a number of years until returning to Forty Thieves to play with Fluid until 1978. Mr. Furbert had been intimately involved in the campaign against the hangings in 1977 and that episode led him to reassess his life.
The veteran musician decided to give up entertainment, underwent a religious conversion and took employment as caretaker at Fort Scaur. The job did not have much responsibility and he made only a fraction of his former income. After a talk with his father, he decided to make the best of it and decided to spruce up the toilets at the Fort; going above and beyond.
Mr. Furbert was subsequently recognized by Tourism's Colin Selley and former Minister of Tourism Jim Woolridge. He was encouraged to develop further, taking on added responsibilities. He eventually applied to be the Curator of Forts and was successful, with the support of people like Joyce Hall and Dr Ed Harris.
In that role and with the extraordinary support of some key people, he received training from the U.S. Parks Department.
Mr. Furbert subsequently took on the post of Town Manager of St. George. In this role he was able to demonstrate his expanded detailed knowledge of local history and his spirit of hospitality. He had opportunities to provide personal tours through the Old Towne and environs to various international personalities; including Tony Blair, Margaret Thatcher and Prince Andrew.
He spent his final professional years as the Executive Director of Windreach, before retiring a few years ago.
Read More About
Category: All, Entertainment, Music, News, Videos