[Updated with video] Bermuda's Reggie Lambe scored the game winner for Mansfield Town today [April 14] as they defeated Tranmere Rovers 1-0, giving his team a big boost as they seek to remain in League Two.
The club's match report said, "Mansfield Town stand on the brink of survival in Sky Bet League Two after showing incredible spirit to beat second-bottom Tranmere Rovers, 1-0, at One Call Stadium.
"Reggie Lambe scored what proved to be the decisive goal on the brink of half-time to move the Stags onto 48 points – nine ahead of their opponents – with three matches of the season left to play.
Photo of Lambe in action today courtesy of Mansfield Town: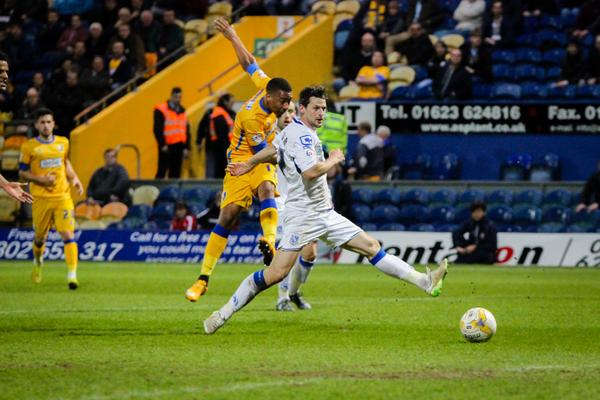 "Despite the Rovers pressure, the Stags stole the lead just before half-time with Reggie Lambe placing his finish to perfection beyond the helpless Fon Williams from just outside the box on his left-foot after being played in brilliantly by Oliver.
"There was tension, drama and nervousness during 13 minutes of injury-time, but Adam Murray's men held on to put themselves on the brink of survival in the Football League."
Lambe scored in the 44th minute, and was sent off for what the club termed an "after an off-the-ball incident" in stoppage time, with the BBC reporting "Lambe was sent off deep in to stoppage time for his involvement in a bust-up between players of both sides."
At least four players were shown yellow cards during that point of the match, with Lambe receiving his second yellow card of the match resulting in him being sent off.
In their report — headlined "Lambe Earns Mansfield Safety – Sky News said, "Reggie Lambe all but ensured Mansfield's safety with the only goal as they left Tranmere staring down the barrel after a 1-0 win.
"Lambe's memorable night ended with a second yellow card deep into an incredible 14 added minutes at the end that saw the hero dismissed."
Update 10.31pm: "It was brilliant, right before half-time. I was just very happy to see it go in," said Lambe, who was speaking in his post-match interview with the Club.
"The type of game it was, the passion I felt when I scored I couldn't hold back. The gaffer wanted me to stay in shape, but I noticed that the ball was going to go up to Vadaine and it just fell to me and I just did the rest."
"It was good to score, but in the end to get a red card, it was a bit disappointing. I've gone in to try and keep the peace, but the referee has pulled me out. I don't know if he thought I was trying to stir everything up, but he gave me a second yellow and I was sent-off."
He added: "They [Tranmere] needed a win and we defended brilliantly, so credit to the boys for working hard, keeping a clean-sheet and doing what we needed to do.
"I don't think anyone really felt nervous. I just think we knew the occasion and we knew they had to come out the blocks and come at us, so first and foremost we wanted to keep a clean-sheet.
"It's brilliant to have that little cushion although we still have to do a job and we still have to be professional and make sure we stay in this league. We look forward to Cambridge.
"Unfortunately I may not be able to play, but I'll be making sure the lads are keeping up the standards."
Read More About