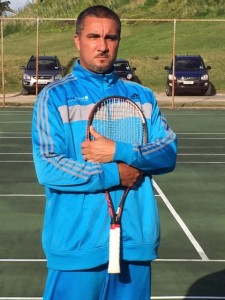 Ricky Mallory former Number 1 player on the Island, and current Davis Cup Coach has been named to the role of National Tennis Director for the BLTA.
President Michael Wolfe said, "Ricky's tennis legacy, international experience, and passion for the sport make him the ideal candidate for the position. This is an entirely volunteer position, so I know it's all about the sport for Ricky."
As National Tennis Director, Ricky Mallory will be responsible for all tennis programming on the Island for all ages and levels. He will work closely with the BLTA Pro's Registry, and will be instrumental in developing programming that will improve the quality and level of tennis in Bermuda. "
Mr Mallory said, "I'm excited about the new role and working to shape tennis in Bermuda. It will take a collective effort between, players, coaches, parents, and the many volunteers in our sport to introduce greater opportunities to play tennis in Bermuda.
"I will be looking to engage a cross section of the community to develop programmes across a wide spectrum. It's not just about focusing on our elite athletes, it's also about offering programs and opportunities for all players, including the social tennis player, who just wants to play more tennis."
One of the first initiatives of the National Tennis Director is to reintroduce the Commercial League tennis programme to the Island.
Mr Mallory said, "This is run by a group of wonderful volunteers who just love the sport. I'm very supportive of bringing this programme back, as it enabled adults to play in an organized league on a consistent basis. I look forward to working with the Commercial League volunteers to get this up and running."
This programme is set to run on June 1st through July 31st and Corporations can enter as many teams as they wish, with Mr. Mallory saying,"There is often a good social vibe about it, and that's also what we're looking to bring back to tennis, it's not just about playing and going home, it's about creating an atmosphere of interaction and comradery."
Integral to the success of tennis in Bermuda are the various tennis clubs on the Island and their ability to host successful BLTA sanctioned tournaments.
"We've just seen recent success with the BLTA Open Singles Challenge event held at Coral Beach earlier this month," said Mr Mallory. "We will be looking to partner with the tennis clubs to create a full tournament schedule going forward, so that both residents and visitors can participate in a series of tournament events.
"Competition and match play are vital to the progression of tennis in Bermuda. Introducing visitors is an important component, as we have such a small pool of tennis players on the island, it will work to enhance the tournament experience, as well as encourage visitors to the island."
Close to Mr Mallory's heart is the improvement of the BLTA' grass roots programmes; his first introduction to tennis was attending the Cromwell Manders Saturday morning grass roots programmes at the Tennis Stadium facilities in Pembroke. As the new National Tennis Director he will responsible for enhancing grass roots programming across the Island and introducing the sport to many children for the first time.
"We have a programme in place called the 'Tennis in the School's Programme', we've been extremely fortunate to have a key sponsor with ACE, for more than 15 years; and with their continued support, we want to enhance this programme and give opportunities for children to be introduced to the sport that might not currently see this programme in their school," Mr Mallory explained.
"The Pro's who have been involved have done a wonderful job, and I'll be looking to them for their experience and engaging them in taking this programme to the next level. There is much work to be done, but I'm confident that with the team we have in place and the caliber of Pro's we have that are equally passionate, we will see great things in tennis in the coming years."
Read More About