Tackling "terrorists" was today on the agenda for Bermuda Regiment soldiers training in North Carolina.
The second full day of the two-week overseas exercise saw troops working in a full-scale town – Military Operations in Urban Terrain [MOUT] – searching buildings and vehicles.
The site at the United States Marine Corps' Camp Lejeune is regarded as one of the best urban operations training centres in the US military.
Truck stop: Regiment soldiers stop a truck and search the driver and vehicle for suspicious items.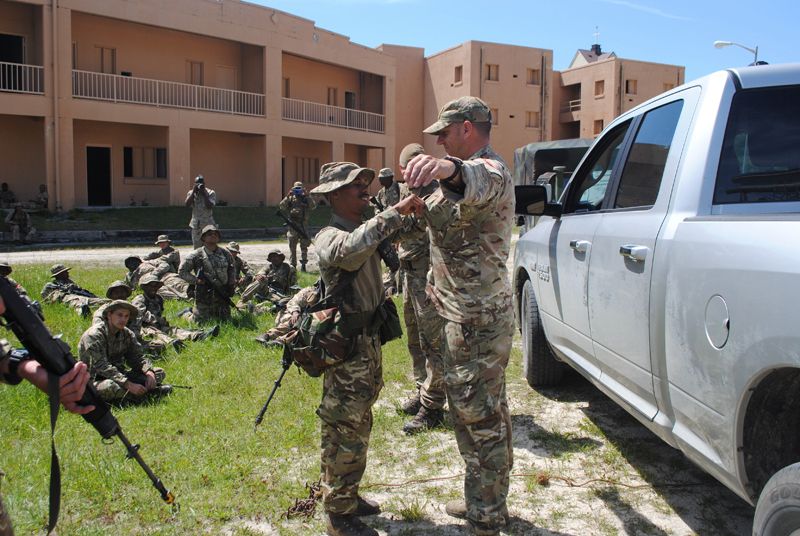 Soldiers from A Company raided and cleared houses and carried out stop and search checks on vehicles under the eagle eye of senior Regiment soldiers and combat veterans from the Regiment's affiliated unit the Royal Anglian Regiment.
Royal Anglian Sergeant Jonathan Herring said: "They're doing well – this sort of thing they're really going to enjoy.
"They're learning everything it takes when it comes to room clearance."
Soldiers set up roadblocks and searched vehicles – including one loaded with weapons and other suspicious items.
On patrol: Soldiers train to patrol an urban area ahead of a major exercise in urban riot control.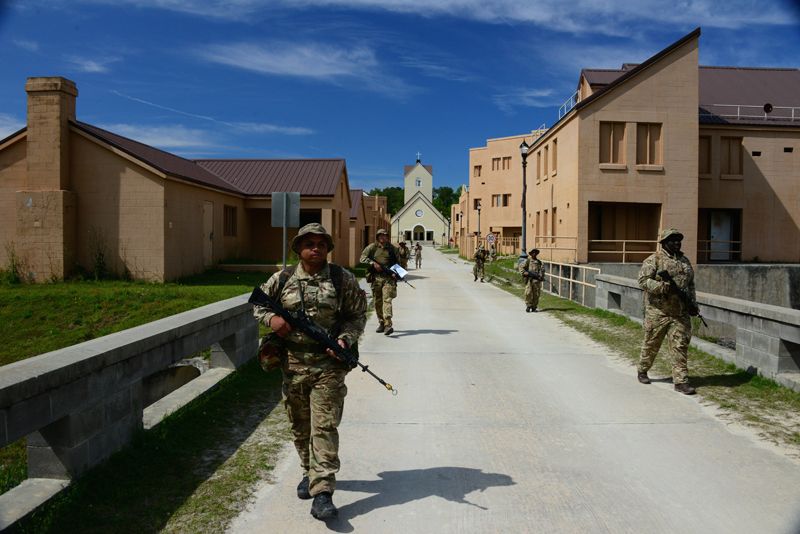 The troops were told by Royal Anglian instructor Colour Sergeant Ashley Ward that 16 different items, ranging from firearms and plastic explosives to cash were hidden in a truck stopped at a MOUT checkpoint.
Soldiers took turns searching the vehicle and turned up ten of the 16 incriminating items – which Clr Sgt Ward rated as good for a first attempt.
He said: "They did all right – and they will now have a much better understanding of how to search a vehicle next time."
Clr Sgt Ward added: "There is no difference between teaching these soldiers are British soldiers and it's good because I'm teaching them a new skill."
On guard: A Regiment soldier scans an area hit by terrorist attacks.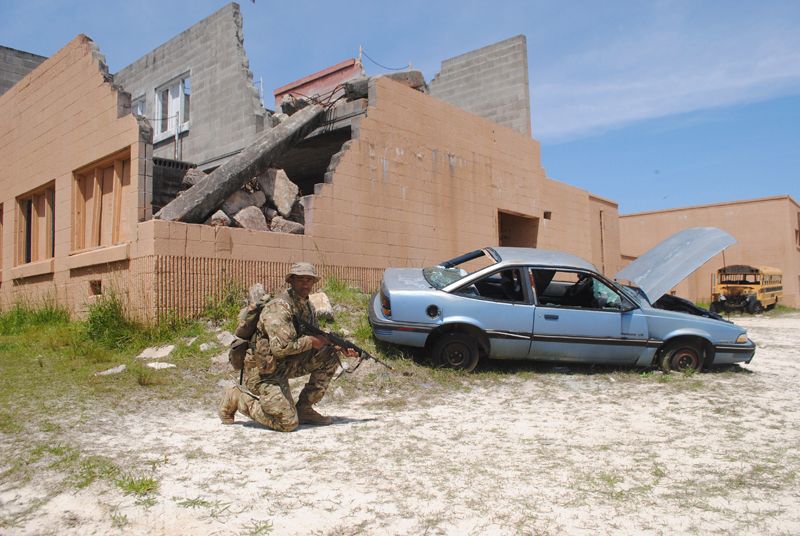 The training is in preparation for a major exercise later, where Regiment soldiers will patrol the MOUT are for several days – and face opposing forces.
Private Ryan North, 26, from Paget, said: "It's fun – it's challenging but good. Everybody's energy is good and everybody's positive."
Nature lover Pte Kleche Burgess, of Devonshire, added: "I'm enjoying everything so far – it's all good. And there are a lot lot of new bugs and snakes.
The 23-year-old said: "I like snakes because I used to work at the aquarium – but you don't want to get too close to poisonous ones like Water Moccasins."
On watch: A trio of Regiment soldiers practice urban operations at a special town built for US Marines.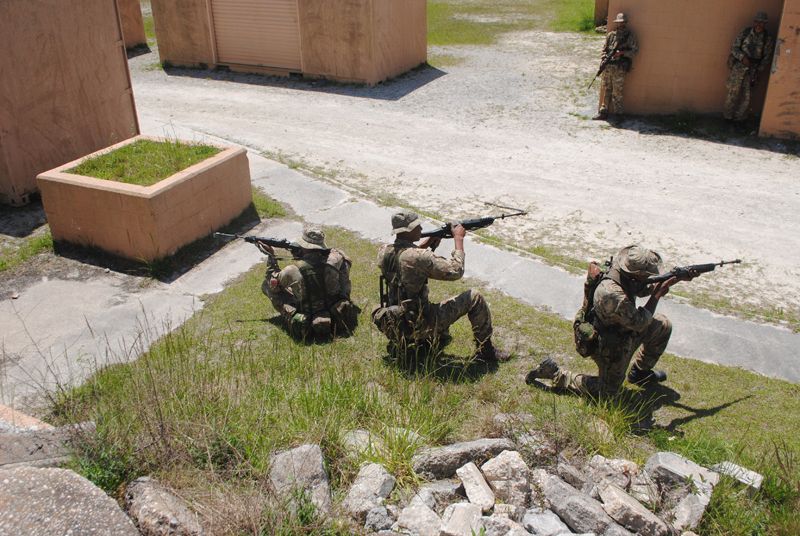 Pte Taahir Augustus, from Southampton and a warehouseman at Dunkley's Dairy in civilian life, added: "They're working us hard and taking us to the next level.
"They're teaching us very well and I'm learning a lot."
Pte Mcccarter Zinkono, a volunteer soldier who works at the Bermuda Aquarium as an aquarist, said: "It's the first time I've been here and I'm liking it – except for the bugs and ticks, although I like seeing new animals. It's a really nice environment here."
The 20-year-old from St George's added: "We're all getting to learn more and become better soldiers and more responsible and disciplined."
Read More About
Category: All