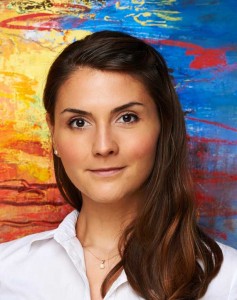 Whether in her role as a member of the legal team that won two historic United States Supreme Court cases securing the rights of men detained in Guantanamo Bay or as a volunteer attorney with the US Center for Constitutional Rights, Gitanjali S. Gutierrez has earned a reputation as an outspoken advocate for human rights and fierce critic of social injustice and political wrongdoing.
Agathe Holowatinc [pictured] of MJM Limited, one of Bermuda's leading law firms, caught up with her last month to discuss the implementation of the Public Access to Information [PATI] Act and Regulations in Bermuda, her role as Bermuda's first Information Commissioner and what progress has been made so far.
Commissioner Gutierrez spoke passionately about her new role and the way PATI is changing the way things are done in Bermuda.
When asked what attracted her to the groundbreaking role she has just taken on, she said: "I have been involved in social justice movements that have involved implementing human rights standards or some other kind of social change broadly within governments or communities, so that aspect of this new change of the PATI Act is familiar to me….When I got married and moved to Bermuda, I really wanted to be able to do similar work. I really wanted to be able to contribute to positive change here; to be able to contribute to the community.
"I feel very lucky to have the kind of post that I have because it gives me a tremendous opportunity to do that. And it draws upon my work doing Freedom of Information Act work in the United States and to some extent in the UK and other countries. I'm thrilled to be able to bring those skills and that background home now and be able to have an impact here like I was having with my prior work."
When commenting on how, around the world, freedom of information laws have sometimes been referred to as "open records," or "sunshine laws" and are also considered a key tool in anti-corruption measures, Commissioner Gutierrez indicated that "the impact of open records laws like PATI range all the way from addressing very serious issues around anti-corruption questions [which I think are important for every country, not just Bermuda] to helping with the broader understanding of good governance; of having an informed public who has the same technical, factual or statistical information that a public officer has so that they can engage in a higher level conversation."
When asked about the independence of the Office of the Information Commissioner as relates to it not being subject to bias or influence by any political party or government, Commissioner Gutierrez asserted: "I do think it's absolutely critical that the Information Commissioner's Office be independent and also actually be free from bias, as well as being perceived as being free from bias.
"This office is charged with safeguarding a process. The role of the Information Commissioner is not to take sides, to be an advocate for any particular issue or any particular political party, but really to promote, oversee and safeguard a process for people informing themselves. One of the most important changes in the law with the PATI Act is that we've moved from people having access to information as a matter of discretion to people having access to information as a matter of right. S
"o if the office of the Information Commissioner is perceived as exercising some sense of discretion based on bias or personal preference or political influence, then that completely undermines one of the most important aspects of the Act. I am personally very committed to the principle of independence and fairness and impartiality."
Finally, when asked if there was anything the public could do to assist in making the PATI Act's implementation successful, Commissioner Gutierrez said "I think the public has a huge role in making the PATI Act successful," and asserted that the first thing they could do is to actually use the PATI Act, the second thing is to use the Act responsibly, and the third thing is for the public to approach the Information Officers with the aim of establishing a constructive relationship to begin with.
"If you're someone who is engaged with public authorities, engaged with your community, and you were asking these questions and posting them, you now have a right to exercise, a way to get those answers. I would ask the public to take up their responsibility, to go one step further, and not just post a question on Facebook but take another step to actually file a PATI Act request to get that information and engage in an informed way."
The Public Access to Information [PATI] Act 2010 became operational in Bermuda on 1 April 2015, effectively permitting members of the public to make requests for records and information from the government. The Q&A with Commissioner Gutierrez was held at the MJM office in Thistle House on Burnaby Street. To read the entire interview, please visit the Bermuda Law Blog at bermudalawblog.bm.
MJM Limited's Agathe Holowatinc holds a Master of Library and Information Studies degree and has a broad range of experience in the information field including having completed a practicum at the United Nation's Dag Hammarskjold Library & Knowledge Sharing Centre, UN Headquarters, New York City.
In her role as Information Services Manager at MJM Limited, she provides leadership and strategic management of the firm's library and information centre as well as oversight of IT operations. She is also a passionate advocate of public access to information.
Read More About