[Updated] Speaking in the House of Assembly today [May 15], Minister of Public Works Craig Cannonier provided an overview of the circumstances surrounding the removal of the stone wall at Blackwatch Pass.
The Minister said, "In recent weeks there has been much media attention concerning the removal of a stone wall at the Blackwatch Pass junction improvement project that is being carried out by the Ministry of Public Works.
"I can inform this Honourable House that all the stone had been returned to the Government Quarry by Friday 8th May 2015. I would like to stress that the value of the stone wall as rubble fill material has been estimated to be worth $875.00.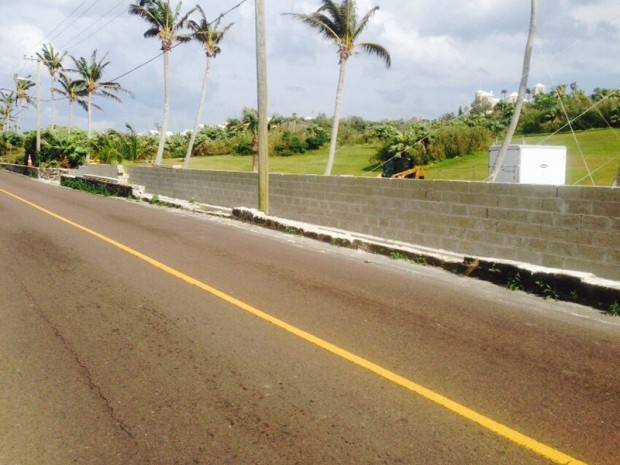 Minister Cannonier added, "I received a request for permission to remove the stone on the evening of Friday 10th April 2015. I contacted the Principal Highways Engineer on the morning of Monday 13th April 2015 to discuss the request only to find out that the stone had already been removed over the weekend.
"It is alleged that consent to remove the stone had been given by one of the site team. I made it clear that this situation was unacceptable as this did not comply with Financial Instructions. The police were contacted for advice on how to proceed where it had appeared that the stone might have been removed following verbal consent from a Ministry employee.
Update: Audio of Minister Cannonier speaking with Bernews about matter outside the House today
"The Police's advice was that if there had been no criminal intent then it would be a Ministry matter rather than something that the police would get involved with. The Ministry contacted the party who had made the email request on the Friday evening and it was confirmed that he had removed the stone.
"No Ministry employee was working on site either Saturday 10th April or Sunday 11th April 2015," the Minister noted.
There was also an exchange surrounding Minister Cannonier's knowledge of a PATI request submitted by MP Walton Brown over this, and we will have coverage of that later. [Update: That story is posted here]
The Minister's full statement follows below:
Mr. Speaker, in recent weeks there has been much media attention concerning the removal of a stone wall at the Blackwatch Pass junction improvement project that is being carried out by the Ministry of Public Works. I can inform this Honourable House that all the stone had been returned to the Government Quarry by Friday 8th May 2015. I would like to stress that the value of the stone wall as rubble fill material has been estimated to be worth $875.00.

Mr Speaker, I received a request for permission to remove the stone on the evening of Friday 10th April 2015. I contacted the Principal Highways Engineer on the morning of Monday 13th April 2015 to discuss the request only to find out that the stone had already been removed over the weekend. It is alleged that consent to remove the stone had been given by one of the site team. I made it clear that this situation was unacceptable as this did not comply with Financial Instructions. The police were contacted for advice on how to proceed where it had appeared that the stone might have been removed following verbal consent from a Ministry employee. The Police's advice was that if there had been no criminal intent then it would be a Ministry matter rather than something that the police would get involved with. The Ministry contacted the party who had made the email request on the Friday evening and it was confirmed that he had removed the stone.

Mr Speaker no Ministry employee was working on site either Saturday 10th April or Sunday 11th April 2015.

Mr Speaker, on another issue I am pleased to be able to report that all repair work to the property at 6 Perimeter Lane will be complete by 22nd May 2015. This will enable the tenant to move back into the property. This Honourable House might recall the devastation caused to 6 Perimeter Lane following the storms on 14th February 2014. This resulted in both the owner and the tenants having to be rehoused in property belonging to the Bermuda Housing Corporation. A substantial amount of renovation has been required to make the property habitable again. I wish to thank the owner and the tenants for their patience in what has been a long drawn out process for them.

Mr Speaker, I would also like to take the opportunity to thank the Works and Engineering team for the very quick repair of the wall on South Road just east of the Paget Lights. The existing wall supporting the road had failed which meant that there was a very high risk that the adjacent section of road itself would have also collapsed. Repair work started on Friday 1st May 2015 and even though it had been estimated that work could take up to a week, everything was complete by the evening of Sunday 3rd May 2015. This is an extremely commendable effort and helped to keep disruption to the travelling public to an absolute minimum for which we are all very thankful.

Thank you Mr. Speaker
Read More About