[Updated] In response to the concerns expressed of the falling rocks in Blackwatch Pass area, Pembroke Central MP Walton Brown urged motorists and pedestrians to use caution in the area and said he would like for the Ministry of Public Works to take "swift action" to fix the issue.
Mr Brown said, "As the member of Parliament for Pembroke Central, the constituency which includes Blackwatch Pass, I too, am concerned about this issue that is potentially dangerous to the community.
"I urge caution from all motorists and pedestrians in the area when passing through Blackwatch Pass. Additionally, I would like for the Ministry of Public Works to take swift action to fix this problem, in order to ensure optimum safety and to reduce the likelihood of an unfortunate accident."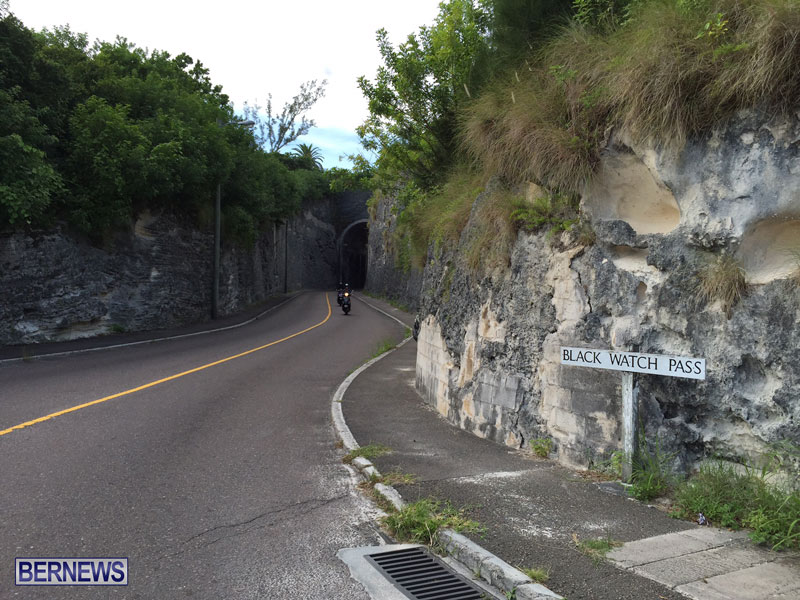 Update Sept 10, 7.06pm: In response, the Ministry of Public Works said, "The Ministry continuously monitors the Blackwatch Pass area and carries out routine maintenance and repair work when necessary.
"The local limestone rock is very susceptible to weathering. Even small debris falling from height is a safety concern both from a pedestrian and a vehicle point of view.
"The Ministry will look at the feasibility of using a netting mechanism in certain areas that could help minimise the risk of rock from falling. The net / mesh is specialized and this technique is used extensively in other countries for rock retention.
"The Ministry will look at the most feasible solution of dealing with this issue. Whilst looking for a sound corrective measure, we will continue to patch the tunnel as we have traditionally done so and we encourage the public to exercise caution when in the area."
Read More About