"The notion that somehow we were doing some sort of deal with Aecon before we met and dealt with CCC is nonsense" and the "idea that somehow we had some sort of plot or collusion is ludicrous," Finance Minister Bob Richards said today [May 13], adding that "there is nothing that we have done that has not been according to the book."
Background
In November 2014, Minister Richards announced that Government reached an agreement with Canadian Commercial Corporation [CCC] for the construction of a new purpose built airport terminal building, which would cost in the "range of $200 million."
Speaking at a press conference at that time, Minister Richards said, "Having carefully considered all its options, Government has decided to avail itself of a novel procurement model offered by way of an arrangement with the CCC."
Minister Richards added, "CCC will select a Canadian developer from its already pre-selected stable of Canadian firms. This company will enter into a contract and Concession Agreement with the Bermuda Airport Authority to develop and manage the project."
The agreement has been strongly criticised by the Opposition over the past few months, who said, "Bermuda deserves better than privatisation through the back door without a tender process."
"The fact that the OBA Cabinet is willing to forgo over $1 billion of future revenues without a fair, open, and transparent tender process is a slap in the face to good governance," the PLP have said.
Documents Released
In a statement yesterday, the People's Campaign said they have  "documents that reveal the Minister of Finance and the Minister of Tourism Development and Transport, have played active roles in a plot that will give hundreds of millions of dollars in Government revenues and operational control" of the airport to Aecon Concessions. The documents can be found online at Airportemails.tumblr.com.
There are over 2,000 pages of emails and 42 extracts posted on the Tumblr website, which the People's Campaign said were received as a result of an Access to Information request made to the Canadian Government. No one involved — Aecon, CCC or the Government — have denied their authenticity.
The emails cover months of correspondence, and show Aecon approaching CCC about the airport which they said "would be similar to the Cayman Islands" adding that the "intent is to privatize the airport operation."
They go on to discuss many other matters, with Steve Nackan of Aecon emailing CCC to say that AECON can "generate a list of questions" using the "same stuff we generated for Cayman" and suggests "maybe we get some of those questions planted".
In December 2014, Mr Nackan mentions that his "team" attended the PLP Town Hall on the matter, and emailed through a report about it, which said a "focused communications strategy is in order to counter the opposition…"
Screenshot of one of the emails, which shows Aecon talking about the "CCC cover"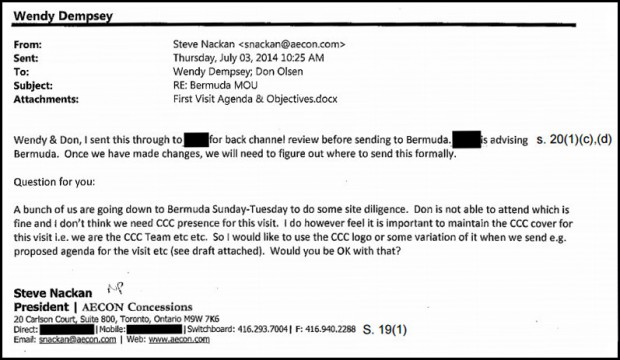 In an email sent in November 2014, Minister Richards, when sending a statement via email, said "I've fuzzied up the no new debt part in view of the funding gap," and he explained the use of that term today.
People's Campaign To Hold Town Hall & March
The People's Campaign will be holding a town hall meeting on Thursday [May 14] at 5:30 at St. Paul's Centennial Hall, and are also "calling upon all Bermudians to make their voices heard" on Friday [May 15] at 9am at the House of Assembly "demanding that all persons involved be held fully accountable."
CCC Responds
In response to questions, CCC President and CEO Martin Zablocki confirmed that Aecon "alerted" them to the opportunity, saying that that CCC "through discussions with Aecon was alerted to the exciting opportunity to redevelop" the airport.
Mr Zablocki said, "The Canadian Commercial Corporation [CCC], a Canadian Crown corporation, through discussions with Aecon was alerted to the exciting opportunity to redevelop the L.F. Wade International Airport.
"As standard procedure when opportunities are identified in this way, CCC assessed the viability of the project with the Government of Bermuda to ensure that it was a good fit for this unique contracting approach. CCC also ensured that the supplier had the ability to successfully pass its rigorous due diligence process, including an integrity compliance review by a committee within CCC and an assessment of the supplier's technical, managerial and financial capability.
"As a past supplier on a similar project, CCC was aware that Aecon has substantial experience and a strong track record in developing, financing and operating transportation infrastructure projects in Canada and globally. CCC stands by its decision to work with Aecon as the prime Canadian sub-contractor to CCC in support of the Bermuda Government's aim to solve the complex challenge to deliver a first tier airport.
"CCC is committed to the highest standards of bilateral cooperation and ethical business practices with regard to the development of this project and looks forward to working together with the Government of Bermuda on a tailor-made solution to the pressing need to redevelop the L.F. Wade International Airport."
Bernews also attempted to get comment from Aecon, however we have not received a response as of this time.
Finance Minister's Comments
Speaking with Bernews today, the Minister said, "First let me say, I take any statements by anybody that impugns my integrity or impugns the integrity of this government – I take such statements seriously.
"And so it's very important that I set the record straight personally, as opposed to sending by email, so that people can know exactly what the facts are and what we are trying to achieve.
"I think the most important thing here is to re-emphasize the fact that the Government of Bermuda had a meeting with CCC in Toronto on the 4th of June last year. The delegation consisted of myself, the Attorney-General, the Financial Secretary, and the Director of Airport Operations.
"We went to meet CCC and Aecon were there, and also a gentleman from the airport in Quito, Ecuador….a country that used Aecon in the past. The meeting was held in the office of CIBC in Toronto, who are our financial advisers on this project.
"I think I saw an email that we met at Aecon's office – that's not true, we met at CIBCs office.
"At that meeting, that was the first time I had ever met Steve Nackan, I never met him before. It was the first time I have ever met Don Olson, the Marketing Director from CCC. I had never even heard of Aecon before May 2014, and the only reason I heard of them is because we were organizing this meeting.
"So, the notion that somehow we were doing some sort of deal with Aecon before we met and dealt with CCC is nonsense."
Video of the Minister's remarks [apologies for the low audio!]
Minister Richards said, "I became aware of this model of financing and development towards the end of April from our financial adviser, and I thought that it could be useful to Bermuda because it will enable us to build a new airport, create a few hundred jobs. What's wrong with that? Creating a few hundred jobs? And not increasing government debt at the same time and having the project be guaranteed not to have overruns. Those were the things that were really attractive to me because of our financial situation.
"One of the emails that I read said that the Minister of Finance was intrigued; he sure was, because it was something that was a way for us to create these jobs. It was a way for us to help to redevelop Bermuda. It was a way for us to reduce the risk of being cut off from the world because of hurricanes. It was the way for us to do all of that without increasing the government debt, which is already way too high.
"So yeah, I was intrigued. So we were introduced to Aecon at that meeting. I had never had any contact with that corporation…didn't even know they existed in April.
"So the idea that somehow we had some sort of plot or collusion is ludicrous, quite frankly, and it's really a desperate attempt of what I call the 'combined opposition' to try to throw mud on the efforts of this government to move Bermuda forward.
"It's really pathetic and sad that the efforts to create hundreds of jobs for Bermuda…this attempt to thwart that by throwing mud on our efforts to do that.
"Let me be clear, when I stated in Parliament that CCC introduced Aecon to us, that's exactly how it happened. We went to a meeting – an official delegation of this government – and we met CCC for the first time and we met Aecon for the first time.
"That was how it happened, so my statement to the Parliament was 100% correct, because CCC are providing these guarantees,so the notion of somehow CCC being a front for Aecon is absurd.
"CCC are 100% owned by the government of Canada – how can a government agency be a front? It's nonsense, particularly in the structure of this deal, that they are guaranteeing to us that this project is delivered on time and on budget.
"So if Aecon go and blow their budget, CCC has got to pay, and that will be part of the contract. So clearly, that's not a front. That is providing an important part of the risk mitigation that we have in this project. I want to be clear on that.
Minister Richards added, "If anyone can show that there's any email from 'yours truly' before that meeting of June 4, 2014, they got something to show – because there is no email, because I didn't know these people, and I was head of delegation on that, because the airport deal is all about the finance.
"Normally an airport deal would be the Minister of Transport, but it's all about the finance here. So I was heading up this delegation, and we met them for the first time. So there's no communication between me and Aecon before that meeting.
Minister | Email Reference To Privatization
The Minister said, "There was some email about privatization – just because somebody says – it wasn't me, it wasn't anybody from the Bermuda government – that said this is privatization, because someone said it doesn't make it so.
"I have said all along that this is a partnership, not that dissimilar from the one that the former government made for the new hospital wing…not that dissimilar."
Minister | 'Fuzzied Up'
Speaking about his email that said, "I've fuzzied up the no new debt part in view of the funding gap," the Minister said, "I used, in an email that I did send, something about fuzzying up numbers.
"That, perhaps, is a loose term, but what I was talking about is that this spending gap that we thought we had at the time – we didn't know how much it was.
"I didn't know the dollar figure; we had a lot of moving parts going on at the time. So I could not be definitive about what that gap was, so I had to make a statement that wasn't definitive.
"I like to be definitive – people who know me realize that I like to be definitive, like I'm being definitive here with you this morning. But I was not able to be definitive at that time because we didn't exactly know what the numbers were – things were in motion at the time and, quite frankly, they still are; to a lesser extent, but they still are."
Minister | Does The Minister Have Concerns Over Aecon Contacting CCC
When asked if he had any concern over how the offer came into play, with Aecon contacting CCC, the Minister told Bernews, "No. I had made a statement in Parliament, the budget statement about some of the intentions of this government.
"And one of them was to have a P3 project to redevelop the airport. So, I told the world that this was the intention of the government, to redevelop the airport on a private-public partnership basis.
"Now on any good company that's in that business would have picked that up and said 'Hey, there is an opportunity, perhaps and opportunity out there for us to participate in this.' So if Aecon contacted CCC, they are just being good business people. The point is that nobody in this government contacted Aecon. That's the point.
"And we would have not talking to Aecon unless it was part of this CCC-based model which provided us with those guarantees, because we wouldn't be making a deal with Aecon if we didn't have those guarantees and if we had to borrow money to do it. Because I had stated right of the bat that we are not going to borrow money to do this.
"So we found a model to satisfy all those criteria. So, if Aecon saw that there was an opportunity there and contacted CCC, that's their business. That most important point is that the government of Bermuda didn't approach Aecon.
Minister | How Close Is Deal To Be Closed
When asked how close the deal is to being closed, the Minister said, "I'm not sure, but I am hoping we are close."
Minister | Closing Words
In wrapping up his statement, the Minister said, "I think the people of Bermuda need to focus on what we are doing here.
"What we are doing is trying to create hundreds of job opportunities for Bermudians, to provide new infrastructure without increasing the government debt and with guarantees against overruns.
"It's a unique model and we have proceeded to try to negotiate with the players, all above board, all according to the book. That's what Bermudians need to know….there is nothing that we have done that has not been according to the book."
Update 2.42pm: The PLP is presently holding a press conference on this matter, and we will post another story with their statement later today.

Read More About