Crewsaver has been selected by Artemis Racing to become its Official Safety Supplier for the 35th America's Cup.
"With the America's Cup taking place in Bermuda in June 2017, and with the preliminary Louis Vuitton America's Cup World Series commencing in July 2015, there's mounting tension and excitement as the teams prepare their campaigns and equipment to take on each other in extreme foiling catamarans," the company said.
"Crewsaver, a Survitec company, and one of the world's leading personal floatation equipment manufacturer, is excited to announce its exclusive safety equipment partnership with Artemis Racing; Crewsaver will be working with the Artemis Racing team to develop the most advanced, cutting edge performance technology available to date.
Iain Percy [Artemis Racing] and Ross Wilkinson [Crewsaver]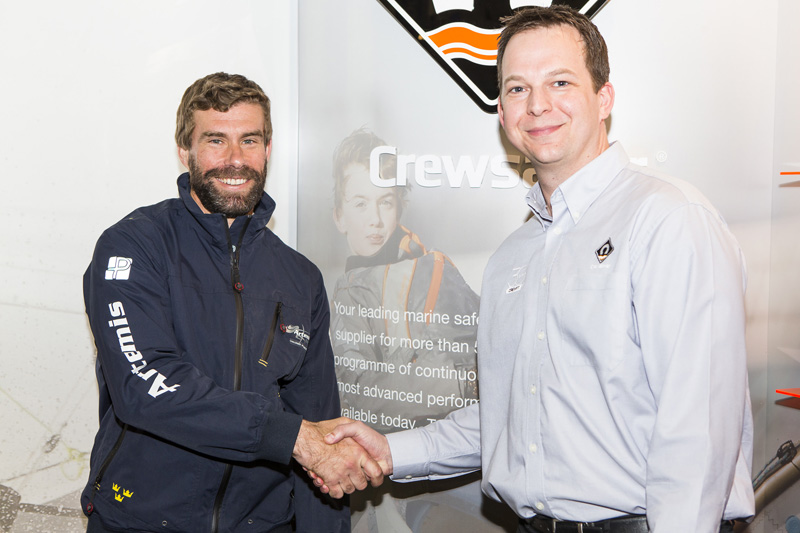 "The new designs will enable Artemis Racing's elite sailors to perform safely, yet to the very best of their ability, under the most challenging of conditions.
"Specifically, two radical new buoyancy aids, including one designed to meet the sailors' unique needs aboard the foiling AC Class boat for the 2017 America's Cup itself, give the team light weight, breathable solutions that provide total freedom of movement and temperature control.
Artemis Racing's safety officer and three time Olympian Anthony Nossiter commented: "We understand the dangers of racing these high performance catamarans at 40+ knots, and the safety of the guys on board is a top priority which is why Crewsaver are our number one choice for taking on this project."
Iain Percy, Team Manager of Artemis Racing and double Olympic Champion, agreed saying: "in elite sport, the finest margins can make the difference between winning or losing, and as a team we are leaving no stone unturned, whether it be in design and manufacture of our AC Class yacht, or in the development of our safety gear."
Artemis Racing's foiling AC45 Turbo training in Bermuda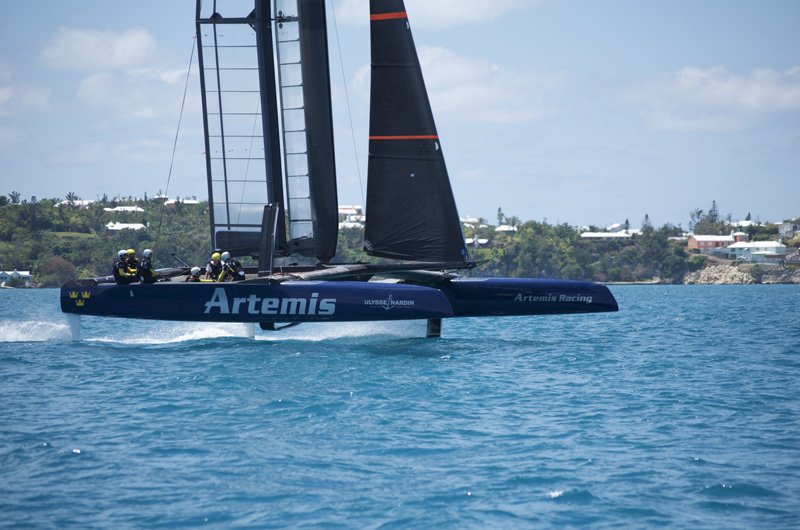 Ross Wilkinson, Managing Director of Crewsaver, commented: "Crewsaver is delighted to partner with Artemis Racing and Iain Percy in their quest to win the 35th America's Cup.
"We have designed each piece to help keep all the sailors safe, comfortable and functioning without compromise. Our in-depth knowledge gleaned in many other fields has enabled us to design safety apparel that truly aids the Artemis Racing sailors in their uniquely challenging environment."

Read More About