Artemis Racing has strengthened its sailing team with two new Swedish team members, Anders Gustafsson and Kalle Torlén; both Olympians, but from very different backgrounds.
The pair join up with fellow Swedish Olympian, and London 2012 Champion, Fredrik Lööf.
Anders Gustafsson is admittedly used to boats and being on the water, having competed at four Olympic Games in Canoe Sprint; but he is not a sailor. He achieved his best Olympic finish at the London 2012 Games, placing fifth in the K1 1000m.
The former World Champion has four World Championship and six European Championship medals; and it was the 36 year old himself who contacted the team.
"I thought my skills, work capacity and engine would be a good fit for sailing" said Gustafsson.
Anders Gustafsson, Kalle Torlén and Fredrik Lööf; Photo courtesy of Artemis Racing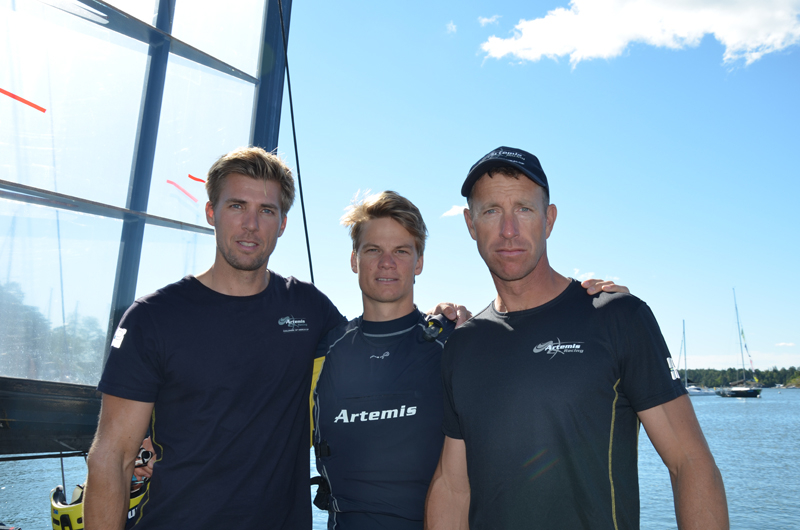 Modern America's Cup class boats are incredibly fast, and their powerful wing sails and foiling manoeuvres place unprecedented physical and mental demands on the athletes that crew them.
Pete Cunningham, Artemis Racing's Exercise Physiologist, commented, "When recruiting for this campaign we looked across numerous endurance sports for elite athletes who would have the physical characteristics that we were after; a combination of aerobic fitness, strength, power, and importantly the right attitude and desire to transition into a new sport at the highest level. When we tested Anders we were blown away by his fitness results on the grinding tests".
Kalle Torlén, who turns 30 in September, competed in the 49er Class at the Beijing Games in 2008, and impressed during recent training camps in San Francisco and Bermuda.
"Joining Artemis Racing is a huge challenge for me, but one I'm relishing. The team is packed with incredibly experienced and talented sailors; and I'm excited to be part of it", commented Kalle.
Later this month the team will compete on home waters in the Louis Vuitton America's Cup World Series in Gothenburg [27-30 August].

Read More About