Artemis Racing was pushing hard to put on a show for its home fans in Gothenburg, Sweden on the official practice day Friday. Unfortunately, that extra push led to a capsize, meaning the team missed out on the two practice races.
"That's what these boats are like," said skipper Nathan Outteridge. "We're all out there pushing hard and that's what happens when you push too much."
All of the crew were safe and the boat suffered only minimal damage to the wing, which will be repaired in time for racing by the morning.
"We're really excited to put on a good show and a good performance," Outteridge continued, saying his team would be ready to go on Saturday.
Photo courtesy of Sander van der Borch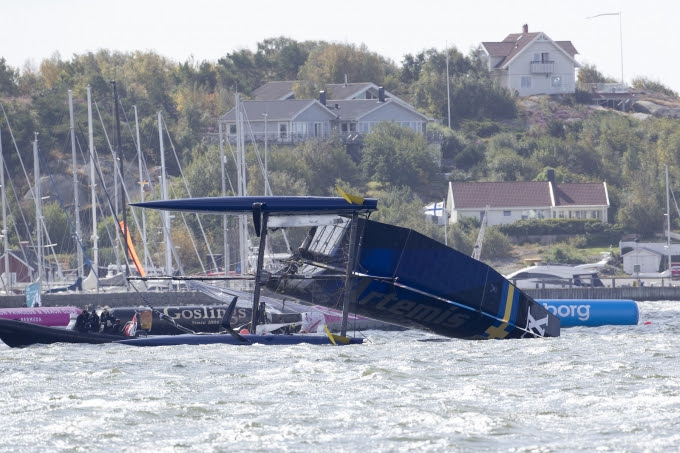 ORACLE TEAM USA and Land Rover BAR each won a race on Friday, the two heavyweights staking their claim early.
"We've all seen how close the racing was [in Portsmouth] and one mistake makes all the difference," said Ben Ainslie, the skipper of Land Rover BAR.
"Moving into this event, with the race course being that much tighter, all of the teams are getting more experience, it's getting harder to stay ahead on the development curve."
"It's always good to be pushed and go up against the best," said ORACLE TEAM USA skipper Jimmy Spithill. "We love competition, we love being pushed and that's what we're going to get this weekend."
Photo courtesy of Gilles Martin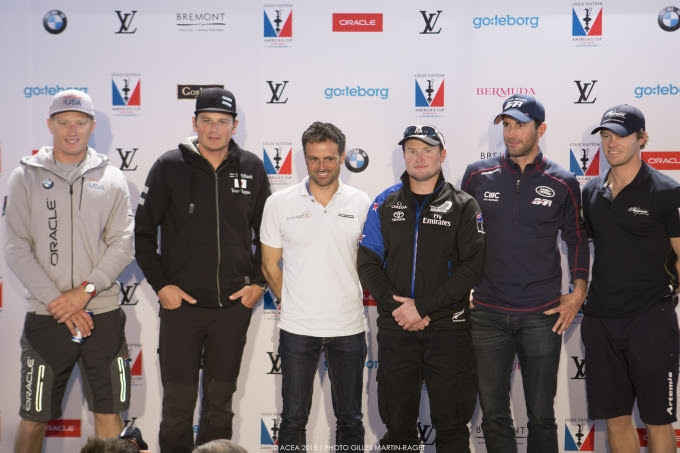 Two races were held in winds in the 16-20 knot range. The stronger conditions were a test for some of the crews who hadn't raced the AC45F foiling catamarans in the strong conditions before.
"Yesterday and today was good for us as it was windy, for the first time for us on these boats. So we're still in a learning process, but it's moving the right way," said Franck Cammas, the skipper for Groupama Team France.
"It was good to be back out racing," agreed Dean Barker, the skipper of SoftBank Team Japan. "Today was something pretty cool. Flat water and good breeze. It's a lot of fun in these boats."
Meanwhile Emirates Team New Zealand missed out on the competition as well, after a minor breakdown forced the team to return to port early.
Photo courtesy of Gilles Martin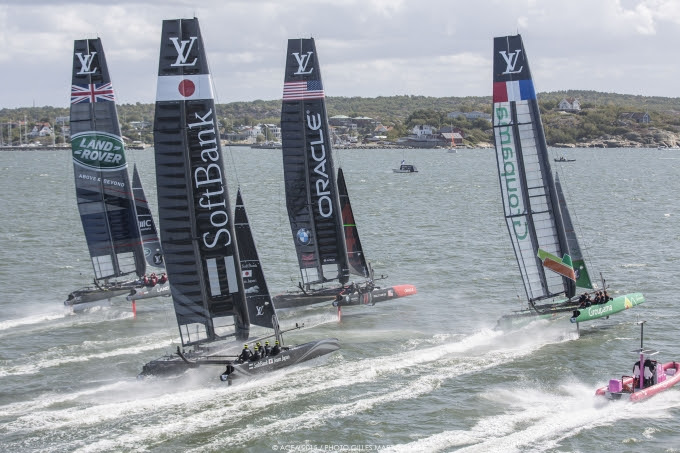 "Very disappointing. We all love sailing these boats in good conditions and today was perfect – flat water and good winds. So we're thoroughly looking forward to tomorrow and getting stuck in with these guys."
For America's Cup fans around the world, there are a number of different ways to follow the high-octane racing in Gothenburg. Many of the international television broadcast rights holders will show live racing Saturday and Sunday, others will have the highlight show. Networks like BT Sport [UK], Canal+ [FRA], CCTV5+ [CHN] and FOX Sports [AUS] are among those to show live racing. NBC/NBCSN in the US will show highlights.
Photo courtesy of Gilles Martin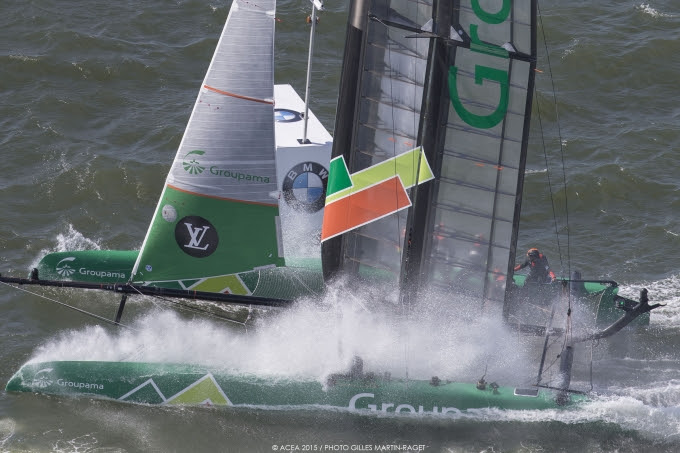 AC Goes Digital with the America's Cup App
To make it easier for fans to tune in on-the-go, wherever they may be in the world, America's Cup has launched the new America's Cup App, available for Android and iOS mobile devices via Google Play and the Apple iTunes store. [The app is not optimized for computers.] 
The app is free to download and has news, photos and race results.
The America's Cup App also offers enhanced online coverage through the premium AC+ feature. AC+ will feature live streaming coverage of the races [subject to territorial restrictions] as well as an enhanced 'second screen' experience featuring on board cameras, video extras, social chat features and behind-the-scenes storytelling. AC+ is a paid service, available for US$7.99 for the Louis Vuitton America's Cup World Series Gothenburg.
"AC+ is about giving a more immersive experience to the viewer," says Antonio Bertone, the Chief Marketing Officer of the 35th America's Cup. "Via the re-launched America's Cup App, the viewer can decide how to watch the racing, by following the broadcast or focusing in on a favorite team via the on-board cameras."

Read More About