Francesco Bruni is set to make his Artemis Racing debut as helmsmen at the upcoming Louis Vuitton America's Cup World Series in Portsmouth [22-24 July], stepping in for Skipper Nathan Outteridge, who is already in Rio making his finals preparations ahead of this summer's Olympic Games.
Artemis Racing has had some mixed results through the season so far, but after a call for more consistency, the team managed to find its rhythm on Lake Michigan, and claim their second World Series victory in Chicago last month.
"I'm very excited excited about my opportunity, and I will do my best to be prepared for it. I've been spending a lot of time speaking with Nathan, sharing his secrets, trying to talk to him at the right time, to extract the good things", said Francesco Bruni.
One of the biggest challenges in this World Series is the fact that the teams aren't able to practice on the AC45F boat, so Mr. Bruni will be need to do as much off the water preparation as possible.
Artemis Racing Development Boat in Bermuda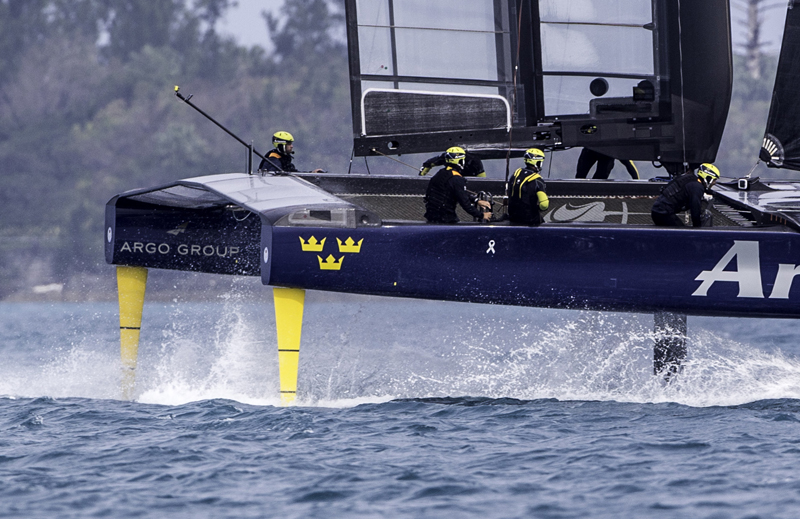 Mr. Bruni continued, "For sure the lack of practice is going to be the biggest problem. I've been thinking a lot about it, looking at the videos, trying to learn as much as I can without being on the boat. I'm sure if I'd had three weeks to practice I'd be feeling good, but I have to deal with it".
Mr. Bruni has been helming Artemis Racing's development [Turbo] boats in Bermuda, and is relishing the chance to be back in real competition.
Artemis Racing's AC45F used in the Louis Vuitton America's Cup World Series Chicago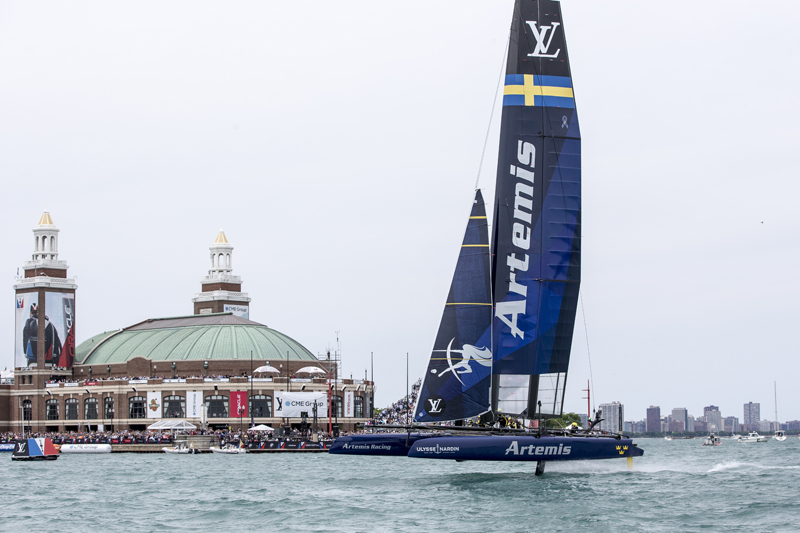 "It's been huge sailing here for the last six months with two boats, we learn so much every time we sail. We have been doing a lot of internal testing, as well as lining up against the other Bermuda based teams. It's been great, and with so many hours on the water, we have really started to get a good rhythm going", said Mr. Bruni.
Skipper Nathan Outteridge, who won the 49er South American Championships last week alongside team mate Iain Jensen, is full of praise for Mr. Bruni.
"It was a difficult decision not to make the trip to Portsmouth, but we're very fortunate to have Mr. Bruni to step in. He's been driving our development boats here, and has probably been spending more time sailing than I have. Every time I'm away at a 49er event, he keeps the Turbos sailing, and with his experience through the last campaign with Luna Rossa, I'm sure he's going to do a great job".
Francesco Bruni training in Bermuda
It will be a full team effort to get Mr. Bruni up to speed on the AC45F in time for Portsmouth.
Nathan continued, "Part of the job between now and the event is to give him the rundown on the World Series boats, because they are very different to the Turbos, but he'll have the support of Luke Parkinson, Iain Percy, Christian Kamp and Kalle Torlén alongside him, and they're a very strong unit. We've been working hard to make sure that we can exchange any person at any moment. We've set the bar pretty high for him after Chicago, and there's plenty of pressure on him, but I know he'll be up for it".
- Photos courtesy of Artemis Racing / Sander van der Borch

Read More About