A second round of the Bermuda Tourism Authority's [BTA] Lunch n Learn series returns in preparation for new Tourism Experiences submissions.
A spokesperson said, "The BTA is once again providing an opportunity for local tourism-minded entrepreneurs to ensure their ideas are aligned with the objectives of the Tourism Experiences investment process, where up to $75,000 in grant money is available to successful applicants.
"To help entrepreneurs build their applications this year, the complimentary Lunch n Learn series will resume next week. The objective is to help entrepreneurs create strong proposals, particularly those who have not been through the application process before and want to put forward new, unique ideas.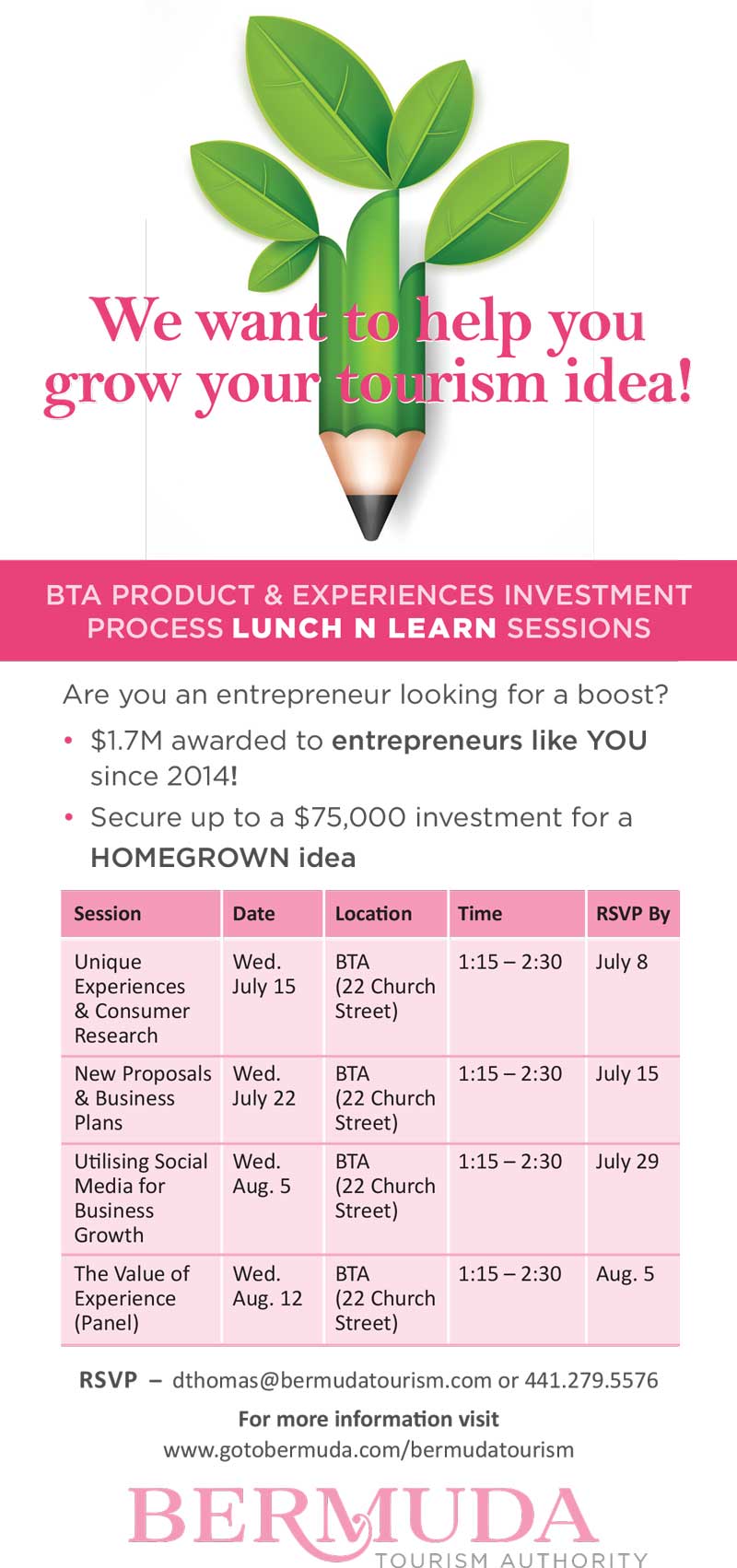 "Home-grown ideas are essential to modernising the Bermuda hospitality product and a pathway to increasing jobs and growing the local tourism economy. The second round of the Lunch n Learn series begins Wednesday, July 15 and sessions are offered periodically until August 12.
Wednesday, July 15 – Unique Experiences & Consumer Research
Research is the foundation of every successful business plan. This session will share the BTA's consumer research that drives the investment process to help applicants understand the need to create experiences unique to the island.
Wednesday, July 22 – New Proposals & Business Plans
Without a solid business plan, an idea is not likely to grow into anything more. This session will help potential applicants flesh out and shape their idea, and provide insight into what is and is not vital in a business plan.
Wednesday, August 5 – Utilising Social Media for Business Growth
Social media is an increasingly vital part of the marketing mix in 2015. This session will demonstrate how a business can use social media to attract consumers and ultimately grow their business through effective use of social media.
Wednesday, August 12 – Value of Experience Panel
"Learning from the experiences of others is one of the few shortcuts to success when starting a new business. This panel discussion will discuss the steep learning curve when beginning a new venture and provide insight into what potential applicants can do to position themselves for success. The panel will consist of vendors who have received BTA investment funds to support their home-grown ideas.
"Based on high demand, only limited space remains. Inquiries can be made via email to David Thomas at dthomas@bermudatourism.com.
"The BTA will begin accepting applications for 2016 Tourism Experiences in September of this year. Priority will be given to those experiences that are annual and standout in a competitive application process.
"In the last round of the Tourism Experiences application process 55% of applications were successful, receiving investment grants of one kind or another.
"Since the BTA began the Tourism Experiences investment process in 2014, $1.7 million dollars has been awarded to entrepreneurs with a vision for attracting visitors to Bermuda and enhancing the visitor experience."
Read More About