72.7% of voters oppose independence for Bermuda, according to a recent poll released by Profiles of Bermuda.
In releasing the poll results the company said, "More than 7 in 10 voters [72.7%] oppose independence for Bermuda, and that position has not changed since 2012 [when it was 77% or from 2014 when it was 71.9%]."
Screenshot of the poll results from Profiles of Bermuda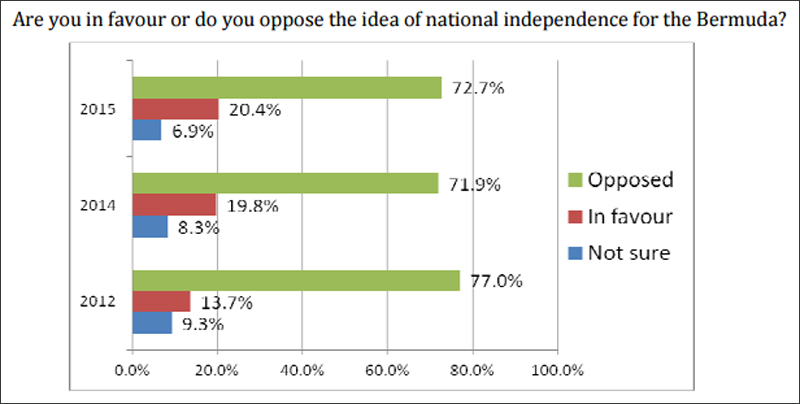 Differences By Race
Profiles of Bermuda said, "The only significant difference by subgroups was for race. While both groups opposed independence for Bermuda, Whites and Others, at 84.5% were more strongly opposed to it than Blacks [67.2%]. Black support for independence stood at 25.8%, while for Whites and Others it was 8.8%.
Poll Notes
In explaining the poll, the company said, "Category totals may not add to 100% due to rounding. The 2015 survey was conducted among 407 registered voters between 15 Apr 15 and 10 May 15 and has a margin of error of plus or minus 4.8%. Some 75% of respondents were obtained by landlines, 11% by cell phones and 14% via the internet. Data for all demographics were weighted to reflect the 2010 Census."
Read More About