Prior to her job as an HR Administrative Assistant at the Department of Education, Ms Janae Armstrong was an unemployed mother of four, challenged to stay positive about her chances of finding a job and creating a better life for her children, and said finding her job is a "true blessing" to her, and she encourages all "unemployed, diligent job seekers to never give up; there is always hope."
But things soon changed once she contacted the Career Development Section of the Department of Workforce Development last year.
"My Employment Officer at the Department, Mr. Derek Smith, assisted with revamping and revising my existing resume," she explained. "In today's job-seeking market, it is vital to emphasize your strengths – both personal and professional. With so many people in the market you have to make your resume stand out from the stack of 200 others."
"Having access to computers at the Department was very helpful, and I spent many hours corresponding with potential employers. Mr. Smith always told me that, while I was not working, I should use that time to rebuild my skills, take courses, and generally improve my marketability, which is exactly what I did."
Ms Armstrong also registered with the Bermuda Job Board, which is a requirement for any of the Department's clients seeking employment.
"I called Mr. Smith every week, as I was determined to gain some security in my life, and my children's life, through finding a job," she added.
"He submitted my resume to several potential employers for various positions, including for a post within government. I was called in for an interview sometime after that. I now work at the Ministry of Education, where I enjoy being able to play a small part in the betterment of Bermuda's children in the public school system. I don't think a lot of people utilize The Department of Workforce Development in the capacity that they can.
"Being unemployed really does get you down, and I often felt 'lost' and struggled to stay positive. I felt like I would never find a job and struggled with many hardships during that time, both financially and emotionally.
"Today, my children are so proud of me, which is the best feeling in the world. This job is a true blessing to me. I encourage all unemployed, diligent job seekers to never give up; there is always hope."
"Ms Armstrong's story is not unusual. Many people have found employment through taking advantage of the free services the Department of Workforce Development offers," the Department said.
"The Career Development Section of the Department is responsible for the assessment of individuals for employment and career development, as well as working with employers on the placement of individuals in available and suitable posts.
"They assist people throughout the job search process, from ensuring job readiness to finding potential employers, and are also responsible for the online Bermuda Job Board listings of available positions in the workforce."
Stanford Bradshaw contacted Derek Smith at the Department of Workforce Development in April of this year, after the GED classes that he was teaching ended, and he found himself temporarily unemployed.
"Mr. Smith is someone I know socially so I approached him seeking some guidance in my job search," Mr. Bradshaw explained. "Mr. Smith provided assistance in terms of finding me a position that was best suited to my skill set.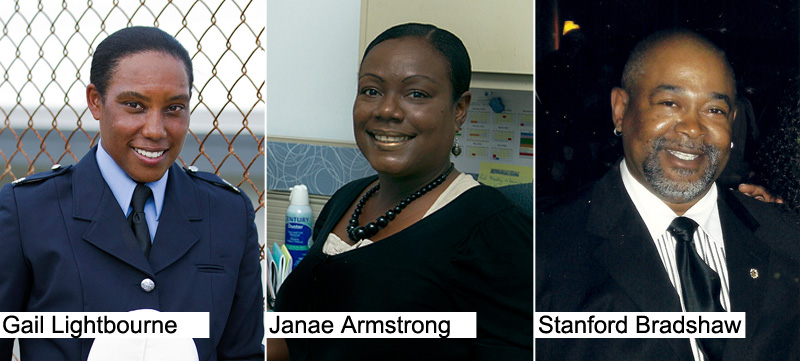 "In addition to administering an assessment of my strengths, he also was very instrumental in the redesign and reformatting of my resume. He also assisted me in fine-tuning my interview skills and was always very encouraging and supportive."
It was through this assistance that Mr. Bradshaw found employment as the Manager at Ice Queen in Paget where he worked this spring until moving on to his current position as an 'Outlet Captain' at 1609 [Hamilton Princess] where he assists in supervising the service team during operating hours.
"Mr. Smith went to great lengths to ensure that I was mentally focused and ready for whatever opportunities I was presented with," said Mr. Bradshaw. "He showed that he actually cared about what direction I was going in with my career.
"His dedication, support and encouragement was very evident in his twice-weekly calls to check in on me and ask how I was doing. Even after I began employment with my first job, he called to check up on me to make sure I was okay."
Mr. Bradshaw has been in the hospitality business since 1974, beginning as a busboy at The Hamilton Princess. He received a Football Scholarship after high school which enabled him to attend a University in the United States. After graduating with a Degree in Business in 1980, he has held various hospitality positions, from Waiter to Food & Beverage Manager.
"The thing I wished that had been emphasized more to us was how important a part computers would play in the daily running of restaurants," he said. "Right now, I am focused on doing the best job that I can, assisting the 1609 restaurant team at the Hamilton Princess and Beach Club in raising the levels of service that helps make moments into memories for our guests."
Corrections Officer Gail Lightbourne, 36, initially came to the Department of Workforce Development after returning to Bermuda from a brief stay in Belize.
"I was finding it easy to land part time hustles but it seemed to be difficult to find something full time," she explained. "My Employment Officer at the Department, Ms Judy Teart, encouraged me to revise my resume so that I wasn't just handing the employer a list of my achievements. From that point on I was getting interviews and calls for fulltime positions. I actually ended up turning some jobs down!
"But I saw one job which I thought could be the right fit for me – a Correctional Officer position with the Department of Corrections that was being advertized on The Bermuda Job Board website and television channel.
"I decided to fill out an online application. As I didn't have the internet at home, I filled it out at the Department, because they provide free public use of their computers. I then discovered that I needed to attach my reference letters, certificates and other documentation on to the job application electronically. The Department staff scanned my documents for me so that I could attach them to my online application.
"After making it though the application process, I was invited to interview for the job. I called Ms Teart right away to let her know. She had me come in to her office and conduct a mock interview with her which allowed me to see my strengths and weaknesses and to get 'the jitters' out before the actual interview."
Ms Lightbourne is now a full time staff member of the Department of Corrections. On May 15, 2015 she began the new recruit training course which she will complete next week.
"The public is reminded that the Department of Workforce Development is there to help individuals prepare for employment opportunities by enrolling them in their in-house workshops and training courses," a spokesperson said.
"Computers are available for use free of charge at the Department so that individuals can access the Bermuda Job Board as well as update their resumes and cover letters. Copies of resumes and cover letters can also be printed free of charge. The Department offers these services to ensure locals take advantage of the many job opportunities available.
"Appointments with career development officers are available from 9am to 3:45pm, Monday to Friday, with hours of operation from 8:30am to 5pm. Feel free to call the Department at 297-7714 for more information."
Read More About