Jessica Lewis returned to the island today [Aug 17] after her impressive showing at the Parapan Am Games in Toronto, which saw her capture the gold medal in record setting style.
The medal win was the first ever major medal won by a Bermudian in para-sports, and Ms Lewis did it in style, literally blowing the competition away in the 100m race to finish well ahead of the field, with her time breaking the Parapan Am Games record.
The 22-year-sprinter was greeted at the airport by balloon and flower carrying family and friends, as well as Town Crier Ed Christopher and Senator Jeff Baron.
Ms Lewis mother Lori Lewis thanked everyone for their support, and noted the Bermuda team had three athletes, and commended Steve Wilson and Yushae DeSilva-Andrade for their performances, saying they were "amazing."
Senator Baron — noting that Ms Lewis didn't just win she "crushed the competition" — wished her good luck at her upcoming competitions, which include the World Championships in Qatar and the Paralympics in Brazil, telling her the whole island is behind her.
Barbara Cooper, who was beaming with pride as she introduced herself as "Jessica's super bragging granny," thanked everyone for their support before telling Ms Lewis she was her "golden granddaughter."
"I am so honoured to be able to bring home a medal to Bermuda," said Ms Lewis. "It's truly an honour to represent my country."
Ms Lewis said she plans to keep training hard, and hopes to be on the medal podium again.
The 2015 Parapan Am Games featured 1,608 athletes from 28 countries competing in 15 different sports, and Bermuda was represented by Jessica Lewis in athletics; and Steve Wilson and Yushae DeSilva-Andrade in Boccia.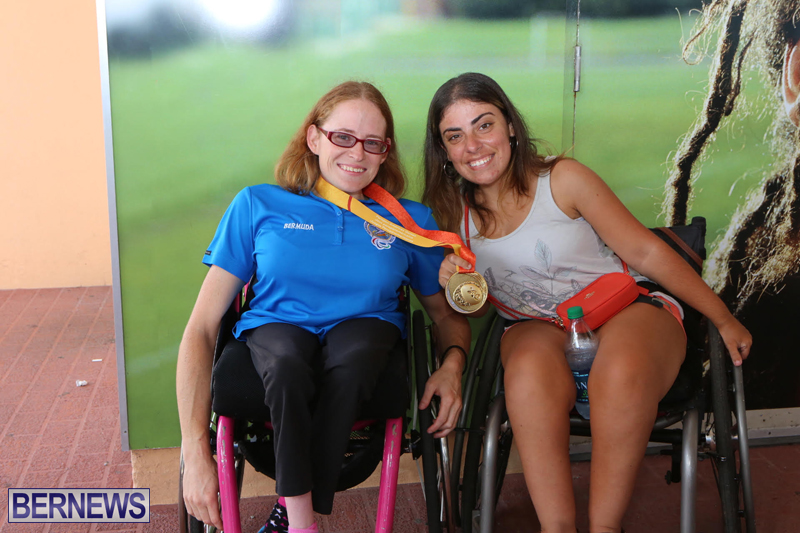 Read More About