Bermuda Regiment divers at the weekend helped safeguard the remaining timbers of Bermuda's founding ship the Sea Venture. Divers from the Regiment's Underwater Task Force sandbagged exposed wood at the site of the 1609 wreck, which led to the permanent habitation of Bermuda.
A total of 14 Regiment divers worked with custodian of wrecks, Dr Phillipe Rouja of the Department of Conservation Services, and the Historic Wrecks Authority to protect the remaining wood from attack by teredo worm, which eats wet wood, but which is unable to destroy wood protected by sand.
The Governor and Regiment CO Lt/Col Michael Foster-Brown fill sandbags on St Catherine's Beach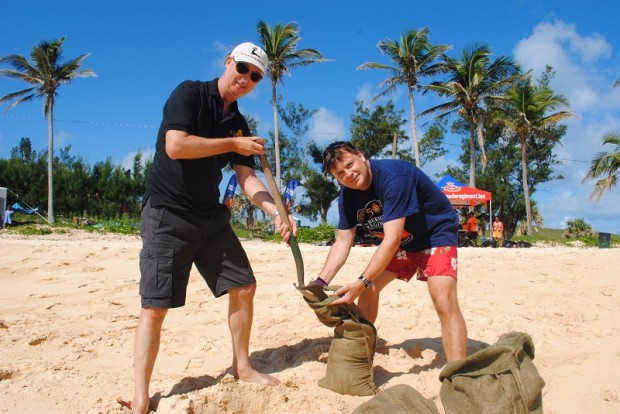 Regiment divers placed around 50 sandbags – made of biodegradable jute sent specially to Bermuda by the British Army to avoid using ocean polluting plastic sandbags – on the exposed timbers on Saturday [Aug 8].
Sergeant Major James Self, who leads its dive team, said the Sea Venture dive was "the signature event" of the 50 wreck dives in 50 days event, launched to commemorate the armed services' 50th anniversary.
He added: "It went very well and it was a privilege for the Regiment to help protect such an important part of the Island's history."
Regiment dive team member Jarrod Zancanella, 32, a veteran bandsman with the Regiment from Hamilton Parish, said: "Bermuda has amazing diving and I wanted to check out the wreck myself. It's part of history and it's good to help preserve it for future generations.
"There's not much left now – but I'll always be able to say I've been to the Sea Venture."
Regiment diver Pte Satyra Robinson loads a sandbag on a Regiment boat at St Catherine's Beach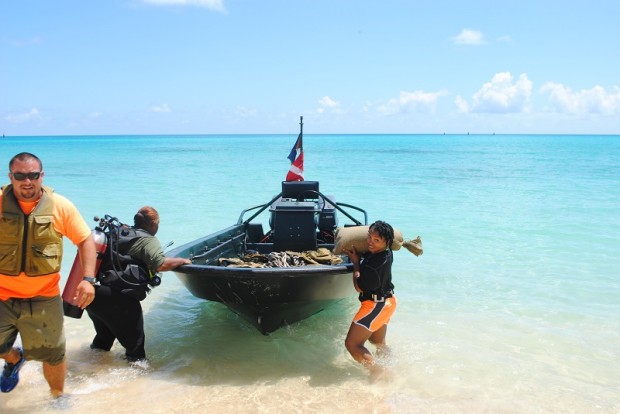 Sergeant Marquisha Douglas, 35, from Pembroke and group sales manager at the Fairmont Southampton, said: "I've never been near the Sea Venture before. It's such an important site and it was something new for me today."
Governor George Fergusson and Regiment CO Lieutenant Colonel Michael Foster-Brown, although not scuba divers, donned fins and diving masks to make a personal inspection of the work and the remnants of the vessel.
Mr Fergusson said: "It's extraordinary to be so close to something so symbolic to Bermuda in the flag and the crest. There aren't many places whose history starts with a single boat."
Regiment divers load a boat with sandbags at St Catherine's Beach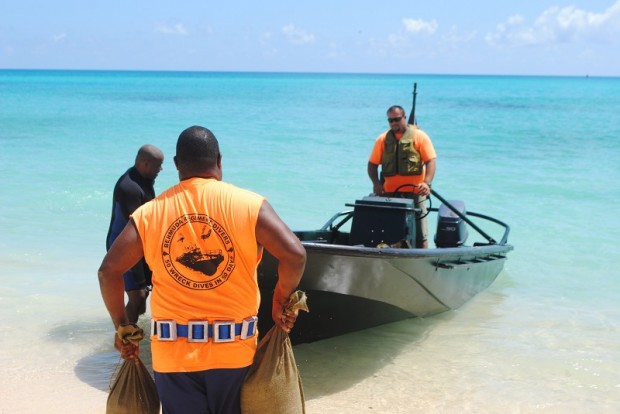 He added: "It's fascinating to see the work of conservation services, which has done so much to find and preserve Bermuda's maritime history, seeing what the Regiment is doing and the work of its dive team at start of its 50 wrecks in 50 days event."
Read More About