News that 23 students received $714,000 in scholarships, Bermudian chef Kieshe Simmons obtained the 'Red Seal' Certification, the Dance Foundation awarded $47,000 in scholarships, and Bermudian student Rosemary Hall being awarded $5,000 by the Bermuda Historical Society were all some of the positive news stories from the past week.
Other good news stories included Taja'mes Branch receiving a $2,000 HCEA Award, Madeleine Fox receiving the Conyers Dill & Pearman Legal Scholarship, Bermuda Girl Guides attending a camp in England, and Isis Wellman being awarded the Duperreault Fellowship.
On a sporting note, Bermuda's team got underway in the Parapan Am Games,Bermuda swimmers competed at FINA in Russia, Team Hurricane basketball players returned home from Global Squad,  Somerset's Derrick Brangman won the 2015 Cup Match Safe Hands Award and Matthew Oliveira won a silver medal at the Junior Caribbean Cycling Championships in the Dominican Republic.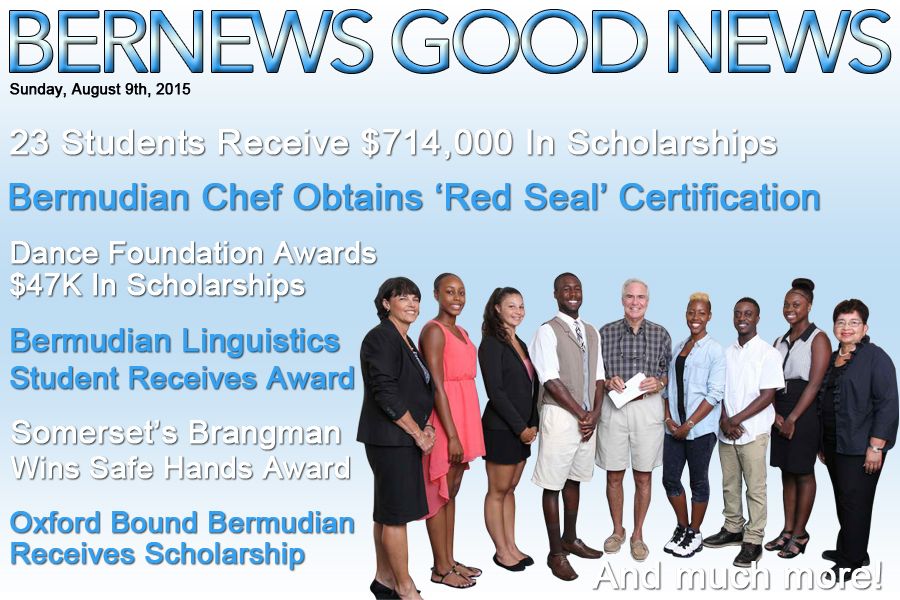 In an effort to highlight some of positive news happening in our community, we supplement our standard morning and evening email newsletters with a special Sunday "Good News" email newsletter edition, which strictly focuses on the positive news from the past week.
You can sign up to have the free newsletter delivered via email here, and/or access the links below. In addition, for those who like positive news, please feel free to visit our sister site ForeverBermuda.com, which seeks to showcase the best of Bermuda as well as provide information and listings for visitor related services.
Links to some of the 'good news' from the past week are below:
Read More About