Bermuda Regiment divers have launched an ambitious programme of wreck dives and conservation work to help celebrate the armed service's 50th anniversary.
Sergeant Major James Self said the programme included 50 wreck dives in 50 days – including conservation work on the 1609 remains of the Sea Venture, which led to the first settlement of the Island, reef surveys, clean-ups and lionfish culls.
He added, "We want to get as many Regiment divers as we can and give them the opportunity to dive as many different things and experience as many different types of dive as possible, whether it's wrecks, reef studies or cleaning up trash in the sea.
Joint operations: [Left to Right] Regiment Sgt Maj James Self lines up marine scientist Corey Eddy, BREAM chief scientist Thaddeus Murdoch, National Museum of Bermuda deputy director Elena Strong, Government custodian of historic shipwrecks Dr Philippe Rouja and Regiment Director of Music Maj. Dwight Robinson to launch an ambitious conservation programme using highly-trained Regiment divers.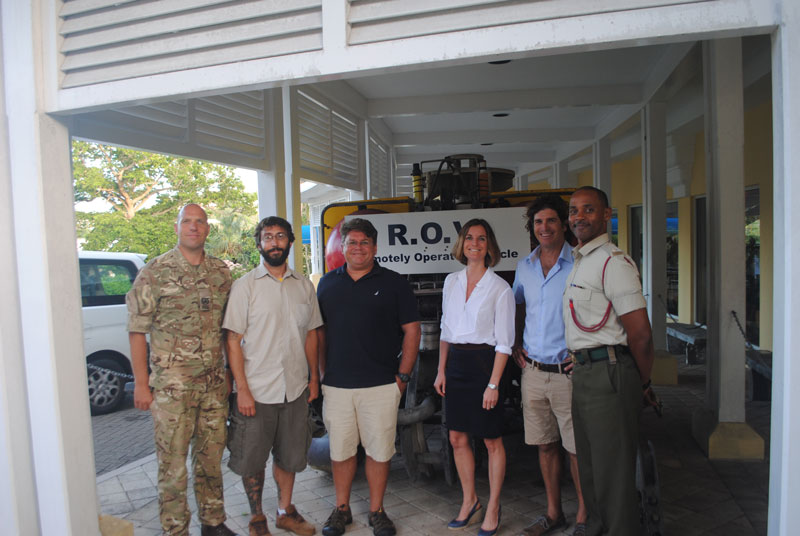 "It's another way the Regiment can contribute to Bermuda society – that's what it's all about."
Sgt Maj. Self was speaking after the Tuesday night launch of the event at the Bermuda Underwater Exploration Institute [BUEI].
A capacity audience of around 150 people heard how the Regiment will work with other agencies to protect the seas around the Island and its historic shipwrecks.
Sgt Maj. Self said, "We're not trying to take the lead on anything – we're trying to support other people with what they're doing as best we can."
The Regiment Underwater Task Force drive was backed by marine scientists and conservationists.
Government custodian of historic shipwrecks Dr Philippe Rouja said the Regiment team would help preserve the Sea Venture wreck by sandbagging its remains to prevent deterioration of the remaining timbers.
He added that a disciplined force like the Regiment with a strong reporting structure meant that the information it gathered would be accurate.
Dr Rouja said, "This is the kind of project that can linger without the added capacity the Regiment will give us – and the Regiment is the kind of capacity that doesn't need supervision. It's a specialised volunteer cadre.
"I see it as an extension of what they do after hurricanes and it's an absolute gift for Bermuda."
National Museum of Bermuda deputy director Elena Strong said, "All the local organisations lack people and resources, so this is a wonderful partnership to help local charities whose mandate is to look our natural and cultural marine environment."
Bermuda Reef Ecosystem Analysis and Monitoring Programme [BREAM] chief scientist Thaddeus Murdoch added that Regiment divers trained to film underwater to help map the health of reefs would be invaluable.
He said, "I'm really excited about the fact this gives me the opportunity to expose a lot of Bermudians to the conservation message and the study of the ecology of the reefs."
Corey Eddy, a Ph.D candidate at the University of Massachusetts, said that Regiment divers had volunteered to gain lionfish hunting permits in a bid to cut down the numbers of the invasive and aggressive species.
He added, "I'm very grateful for the Regiment's assistance in tackling this problem."
Read More About
Category: All, Environment