The Bermuda Turtle Project had a "very successful season," with a record breaking 289 turtles caught during the project, assisting the project's mission of conserving sea turtles through research and education.
The BZS newsletter said, "The Bermuda Turtle Project [BTP] are happy to report that they had a very successful season! The project took place in the 2nd and 3rd week of August and the team were out each weekday from 8am until sometimes 9pm, depending on the turtle activity in the chosen area.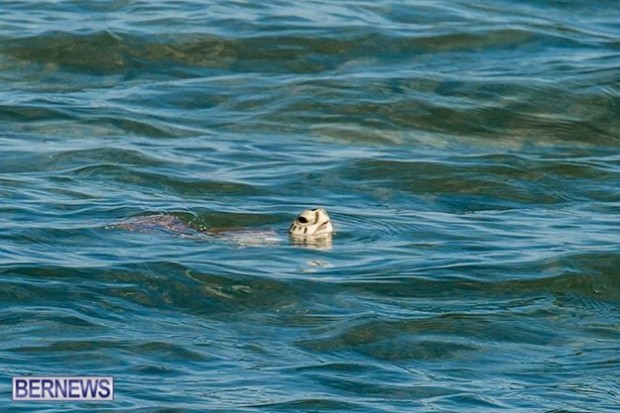 "The team comprised of Jennifer Gray – the project coordinator, Drs. Anne and Peter Meylan – the project's scientific directors, and volunteers from Aruba, Panama, Columbia, Uruguay and England.
"The project was able to set several records this season! The total number of turtles caught during the project was 289, breaking the previous record of 203. Additionally the standing record of 42 turtles caught in one day was broken three times this season, when the team caught 48, 55 and finally a whooping 58 turtles!
"That made the average number of turtles caught per set twice that of the previous record! Finally, the team landed a 15 year recapture of a turtle, making it the longest stretch of time for a recaptured turtle. This information is excellent news, when it comes to the conservation of Green Turtles in Bermuda!
"The mission of the BTP is to conserve sea turtles through research and education. For the past two decades focused research has been undertaken to provide new insights into the life history of sea turtles at a specific stage of their life cycle; the 'benthic developmental stage' in which juvenile turtles grow from the size of a dinner plate to nearly adult size.
"Over 3,500 green turtles have been captured, tagged and released, and the results have provided data on size frequencies, sex ratios, growth rates, genetic affinities, habitat preferences, as well as migratory routes from the island.
"Turtles tagged in Bermuda have been recovered in Nicaragua, Costa Rica, Panama, Cuba, Mexico, Dominican Republic, Grenada, St. Lucia and the U.S."

Read More About
Category: All, Environment, News