Gosling Brothers has filed a complaint in U.S. Court against Pernod Ricard, the makers of Malibu Rum, for trademark infringement.
"It says the official recipe for a Dark 'n Stormy calls for 1.5 ounces of Gosling's Black Seal Rum and 4 to 5 ounces of any brand of ginger beer. Using any other brand of rum is incorrect, according to Gosling's lawsuit," CourtHouse News reports.
"In October 2014, however, Pernod published a recipe on its website for a Dark 'n Stormy that used Malibu Rum, rather than Gosling's."
Screenshot from the Pernod website showing them promoting a Dark 'n Stormy recipe with their rum: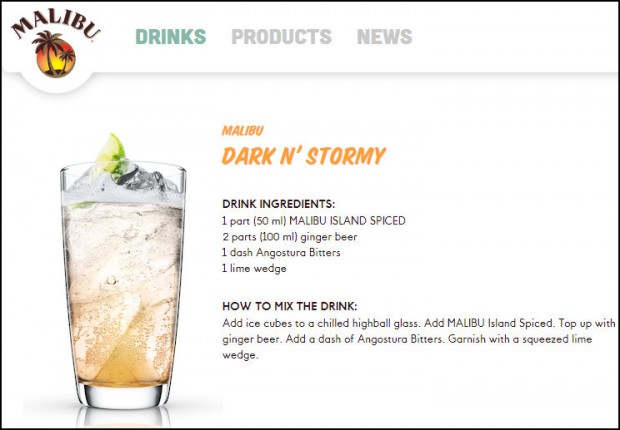 "Defendant's actions are knowing, willful, deliberate and performed with the interest to trade off of Gosling's goodwill and reputation tied to the iconic Dark 'N Stormy marks," the federal complaint states.
"Defendant's wrongful conduct has caused or will cause Gosling to lose control over the goodwill and reputation associated with the Dark 'N Stormy marks."
Read More About