The Louis Vuitton America's Cup World Series taking place in Bermuda, the Bermuda's women's football team defeating Puerto Rico, and the island being featured in an 11-page spread in Climbing Magazine were some of the positive news stories from the past week.
Other good news stories included Pittsburgh Technical Institute offering scholarships to Bermudian students, Jessica Burns being awarded the 2015 Validus Scholarship, Freddy Hall being named as the Limerick Player of the Month, and the Bermuda Police Service donating over $10,000 to charity.
Additional good news included Chris Dawson winning the $10,000 Charman Prize, Paget Council awarding four educational scholarships, news that Bermuda actress Kristen Alminta will play the role of Othello in a stage production, and Jonte Smith scoring for Gloucester City FC.
We also posted various community photo galleries, including multiple galleries of the America's Cup World Series, the Ulysee Nardin event at Crissons, Bermuda Rugby Football Union matches, Endeavour Day, the Butterfield & Vallis Food Show, a display by the Bermuda Classic Bike Club, the Argo Group Gold Cup finals, the PartnerRe Women's 5K Road Race and Junior Girls' 2K Race, and the BPS Police Gymkhana.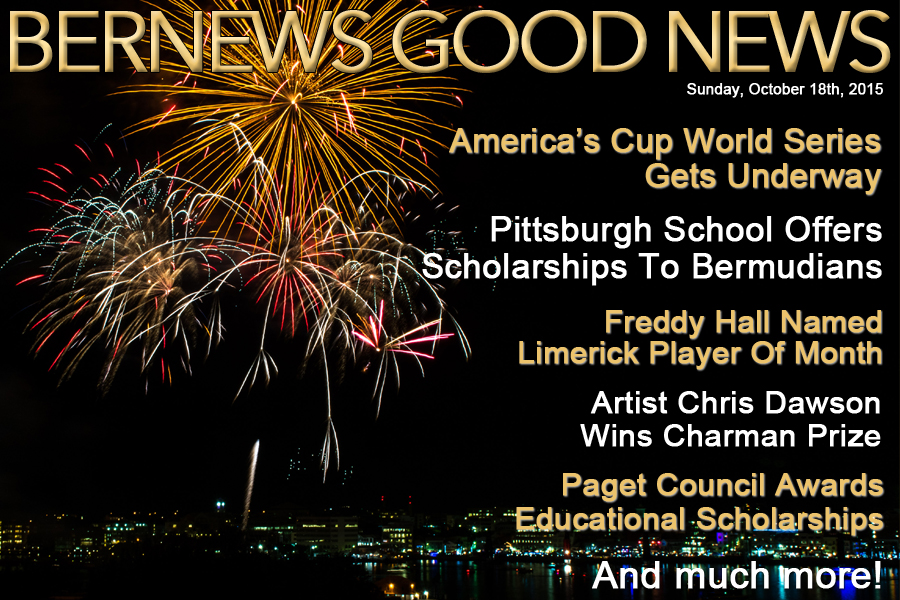 In an effort to highlight some of positive news happening in our community, we supplement our standard morning and evening email newsletters with a special Sunday "Good News" email newsletter edition, which strictly focuses on the positive news from the past week.
You can sign up to have the free newsletter delivered via email here, and/or access the links below. In addition, for those who like positive news, please feel free to visit our sister site ForeverBermuda.com, which seeks to showcase the best of Bermuda as well as provide information and listings for visitor related services.
Links to some of the 'good news' from the past week are below:
Read More About