[Opinion column written by BPSU President Jason P. Hayward]
In her recent opinion column, Senator Lynne Woolridge provides an overview of the delineation of responsibilities between Ministers and the public services in an attempt to remove accountability from Ministers.
The Senator states: "There are Cabinet Ministers and Junior Ministers. Between them and the delivery of the Government's product to the public are thousands of public servants. Before you pass judgement, ask yourself whether the person you are criticising has actual responsibility for the delivery of the product you've found fault with."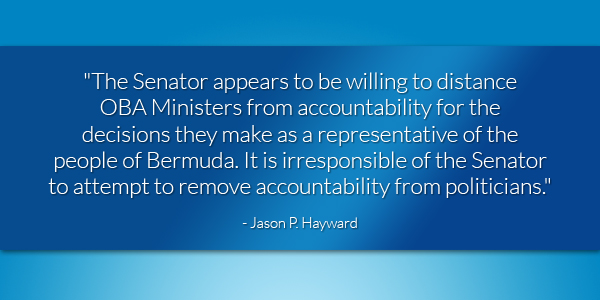 The Senator should be aware that all Ministers are governed by Bermuda Government's Ministerial Code of Conduct. Unfortunately, in her attempt to distance Ministers from their responsibilities, she purposefully opted not to mention one of the core principles of the Code of Conduct:
Section A 1. [iii]. "As the political head of a Ministry, the Minister is responsible for all its acts and omissions, and must bear the consequences of any defect of administration or and aspect of policy which may be criticised in Parliament, whether personally responsible or not."
Lack of Understanding
Recently, it has become common practice for the Government of the day to blame voters' lack of understanding whenever voters attempt to hold their elected officials to account. The Senator has followed this same practice by stating, "What people don't seem to understand is that politicians cannot direct public servants in their daily activities."
The Senator described what should be, however, the Senator has failed to state what is actually practiced.
There are cases in which Ministers are bypassing the Permanent Secretaries and are giving instruction directly to Department Heads and public service employees. This is clearly a violation of both Cabinet and Ministerial responsibilities and procedure. It is this practice that places public service employees in a very compromising position and it needs to be stopped immediately. One wonders if the Ministers themselves understand that they should not be giving directives.
Shared Responsibility and Accountability
The role of the Civil Service is to be apolitical and serve the Government. As such, there must be a clear delineation of how to promote and maintain ethical standards of conduct between Ministers and Civil Servants irrespective of the Government of the day. Whilst currently there is intense focus being placed on the productivity and accountability of the Civil Service, Ministers and all political representatives must also be answerable for their actions.
In order for there to be an effective government, it is essential that Ministers and public servants work hand-in-hand to achieve the Government objectives and maintain quality service delivery. When objectives are completed and goals are accomplished, both Minister and public servants should be applauded. However, one must question why Senator Woolridge appears willing to lay blame exclusively on public service employees when expectations are not met.
This is a slippery slope the Senator is traversing. The Auditor General's Report on the Consolidated Fund highlights concerns surrounding maladministration, ministerial interference and other forms of mismanagement. If the position of the Senator holds true, this would mean that both the previous and current Government can remove themselves from all accountability for financial irregularities and lack of compliance to financial instructions.
While Ministers themselves have no authority to make any financial transactions, this does not excuse them of the responsibility. Ministers must accept accountability for the exercise of their powers and the functions of their office.
Conflicting Statements
In this piece, Senator Woolridge also states, "….the public service is an organization with its own boss – the Secretary to the Cabinet. It is an organization responsible for choosing and hiring, promoting and disciplining its own members, working to and oversight body called the Public Service Commission. The Commission is made up of citizens appointed by the Governor. Ministers cannot interfere with their process".
If that is the case Senator Woolridge, can you please explain to the people of Bermuda how the OBA Cabinet can institute a hiring freeze and force Department Heads to submit a business case to them for filling vacant posts which have approved funding by Parliament? The Public Service Commission Regulations 2001, PART Ill 8 reads, "Upon an office becoming vacant, or where it becomes apparent that any office will become vacant, then the Head of Department shall so advise the Director in writing and, if it is an office which should be filled, the Director shall inform the Commission accordingly."
It is clear that the boundaries which Senator Woolridge speaks of have been crossed in this case.
Leadership
The Senator appears to be willing to distance OBA Ministers from accountability for the decisions they make as a representative of the people of Bermuda. It is irresponsible of the Senator to attempt to remove accountability from politicians.
- Jason P. Hayward

20 Most Recent Opinion Columns

Opinion columns reflect the views of the writer, and not those of Bernews Ltd. To submit an Opinion Column/Letter to the Editor, please email info@bernews.com. Bernews welcomes submissions, and while there are no length restrictions, all columns must be signed by the writer's real name.
-
Read More About