[Written by Mikaela Ian Pearman]
Imagine this scene: A dimly lit ballroom with white lights, a long white carpet leading to a stage and dozens of young women and men dressed in carnival costumes with soca music blaring from the speakers.
That was last night's Bermuda Heroes Weekend Band Launch which featured vibrant colours, sparkly jewels and tons of feathers. Oh and quite a few barely covered bums shaking to the soca music.
The event was held in the fabulous Harbourview Ballroom at the Hamilton Princess & Beach Club. When I arrived at 9pm, the music was pumping and the room was packed with people. I was shocked to see so many Bermudians out to a party that early.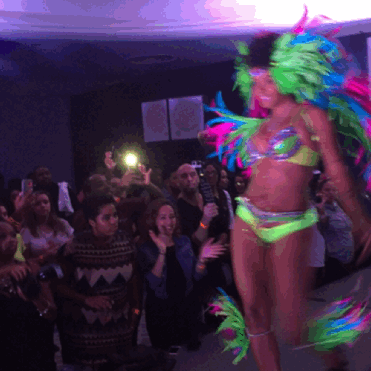 The whole premise of the launch was to showcase the bands for BHW 2016 and their costume offerings. For those not familiar with carnival, bands launch their costumes months ahead of carnival for patrons to decide which band they want to play mas with and also to select their costumes.
Nine bands showcased their costumes last night including X Plosive, Passion, Nova Mas International, Caribbean Massive, Band Addiction, Code Red, Intense, Real Frenz and Party People. Each band was given a set amount of time for models to walk down the runaway to showcase the costumes and time management seemed to be a challenge for a few of the bands.
Each band its own unique theme and colours. X Plosive started the evening off with beautiful light pink, purple and gold costumes. They had an option for plus size women that was figure flattering and the model exuded confidence, which made the costume look even better.
Next up was Passion, showcasing three sections. Section one featured light purple, hot pink and gold jewel encrusted costumes. Section two showcased turquoise, orange and hot pink sets and finally, section three was my favourite of the bunch – white costumes with peach and red accents.
-
Nova Mas began their presentation with two dancers meant to mimic butterflies in movement. The costumes were turquoise with hints of orange and gold. The highlight of Nova Mas was the Gombey dancers and Gombey costume with an elaborate headdress. It was certainly the wow factor of the night.
Caribbean Massive showcased an old school carnival style with yellow, burgundy, orange and white one piece costumes. Band addiction was up next with three different gorgeous neon costumes with yellow, orange, pink and green.
Code Red and Intense followed with very similar costumes in mainly red and gold. Code Red also had t shirt options for those who wish to be a bit more conservative.
The final two bands were Real Frenz and Party People. Real Frenz offered bright and colourful patterned costumes with three different options.
Party People showcased three sections. Their first section was baby blue with light purple and silver jewels ie my absolute favourite costume of the night. The second section featured multi coloured, patterned costumes and section three featured red and yellow sets with an Indian theme.
The costumes were all absolutely beautiful but there were some that were of far better quality and design. Overall, the night was good fun and I was thrilled to attend such a unique event in Bermuda.
Kudos to the organisers, especially Jason Sukdeo – the man with the vision, for putting on an amazing event. I'm sure BHW converted a few more soca junkies for 2016!
Click to enlarge photos:


Read More About
Category: All, Beauty/Fashion, Entertainment, News, Photos