On Thursday evening at the 2015 Celebration of Entrepreneurship and Innovation awards presentation Trunomi was announced the winner of the 2015 TechAward in the International Innovation Category with their consent-based Know Your Customer [KYC] data-sharing technology.
Fireminds and First Atlantic Commerce tied for second place. Fireminds developed a security credentialing app used at the Louis Vuitton America's Cup World Series while First Atlantic Commerce was recognised for their sophisticated platform created for Digicel to manage customer payments across a multitude of currency systems throughout the Caribbean market.
[Left to right]: Aaron Smith, CEO, Igility Group, Chairman, ECAB; TechAward recipients Chris Burns, CEO of First Atlantic Commerce, James Birch and Michael Branco of Fireminds; and The Minister of Economic Development Grant Gibbons, flanked by Trunomi's Chia Brewin and Sally-Anne Baron.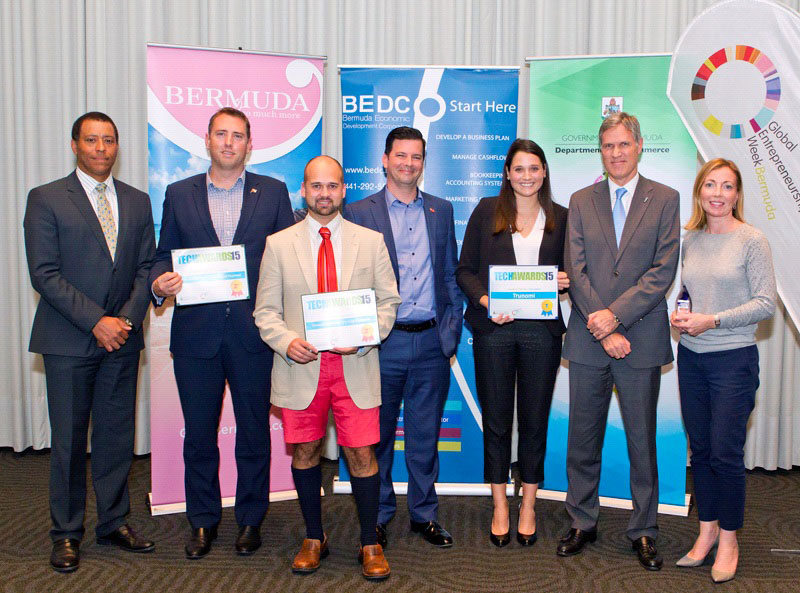 The event was part of Global Entrepreneurship Week which is coordinated each year by the Bermuda Economic Development Corporation [BEDC], the Department of E-Commerce and the Youth Entrepreneurship Initiative.
The Ministry of Economic Development presented the Technology Innovation Awards [TechAwards] which honors entrepreneurs that are active participants in the Digital Economy.
Read More About
Category: All, Business, technology