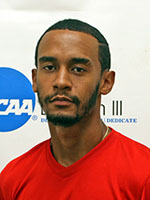 Bermuda's Tre Ming — who attends Thomas College in Maine — has earned North Atlantic Conference [NAC] Men's Soccer Player of the Year honours after being selected by a vote of the conference coaches.
The announcement from NAC said, "Ming, a Devonshire, Bermuda native, has been a charismatic leader and team captain for the Terriers this season.
"In conference play, the senior tallied 23 points off of four goals and a league-leading 15 assists. With his 18 total assists on the year, the midfielder leads all NAC players for the third-consecutive season and ranks fifth in total points with 28.
"Ming has recorded at least one point in 11 of the 15 games in which he has played, including a career-high six on one goal and four assists in Thomas' regular-season finale.
"According to the most recent Division III rankings, he is currently second in the nation in total assists and assists per game [1.20]. In three seasons at Thomas, Ming has started 51 of 53 games played and has accounted for 76 points on 19 goals and 38 assists.
"He also has five game-winning goals in his Thomas career."

Read More About