The 2015 World Rugby Classic continued at the National Sports Centre, with New Zealand defeating South Africa 20 – 14, and the United States defeating Italy 48 – 19.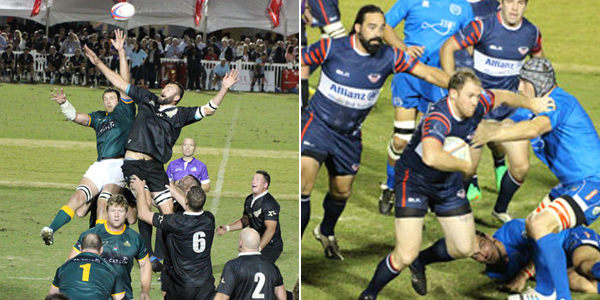 Classic Semi-Final: New Zealand 20 – South Africa 14
In the main Semi-Final match New Zealand took an early first half lead when Wayne McEntee went over for a try, but the conversion was missed leaving the score 5 – 0. South Africa would eventually get on the board and even take over the lead when Marc Watson went over for a try and when Monty Dumond kicked the conversion they held a 7 – 5 lead.
New Zealand would take back the lead with 9 minutes remaining in the first half when Charles Hore went over for a try, which was followed by a Brendan Laney conversion making the score 12 – 5.
Hore would add another try minutes into the second half as New Zealand took a 17 – 5 lead, but South Africa would draw within three when Dumpond went over for a try and when Reinhard Gerber kicked thecConversion the score was 17 – 14.
New Zealand would get a penalty kick in the dying minutes much to the displeasure of the crowd, but with the Ian Arlidge penalty kick it gave New Zealand the 20 – 14 win.
Women Who Love Wine

Posted by SOML on Saturday, October 10, 2015
-
Plate Semi-Final: Classic United States 48 – Classic Italy 19
The Plate Semi-Final opened the night, with the United States making a statement for the final with a 48 – 19 win over Italy.
Louis Tulio would give the Classic Eagles the lead and when Matt Byrd went over for a try with 10 minutes to go in the half made the score 10 – 0. Nese Malifa added to the Classic Eagles score when he went over for a try with 6:35 remaining.
Following a long medical delay that saw Marco Stnojevic from Italy taken to the hospital suffering from a neck injury, Italy would get on the scoresheet before the half came to an end when Paco Ogert went over for a try making the score 15 – 5.
The second half saw the Classic Eagles get 2 tries from Mike Palefau and Jonathan Gray, Mathieu Lesgourges and Nicholas Benvenutti as they ran up the score on their opponents, Matt Boyd added 2 conversions.
In the second half Italy was looking to restore pride they got tries from Simone Carlesi and Ramiro Pez, Pez kicked 2 conversions for Italy.

Read More About