[Opinion column written by Sylvan Richards]
Since being elected to Parliament in 2012, I've been present at every single budget speech and reply to the budget speech given since that time.
On each occasion, I have been struck by the irony of the Progressive Labour Party, whose disastrous bungling of the economy got us into this mess in the first place and who are now trying to sell themselves as saviours of the Bermuda economy.
It never ceases to blow my mind! The PLP are relying on Bermudians to hopefully forget that it was their actions which greatly contributed to our economy tanking, resulting in our huge debt burden and job losses in the first place.
So this year, I thought I would analyse some of the ideas put forward by the PLP's Shadow Minister of Finance, MP David Burt, which clearly reveal that they have learned nothing from their years in power, when they pushed Bermuda into this deep economic hole we find ourselves in.
In this first article on that theme, I want to highlight the PLP's proposal to create a "Bermuda Fund" to invest in the development of business in Bermuda. To me, it is the perfect example of the PLP's failure to grasp the gravity of the economic mess they created, how they created it, and their inability to imagine a way out of it.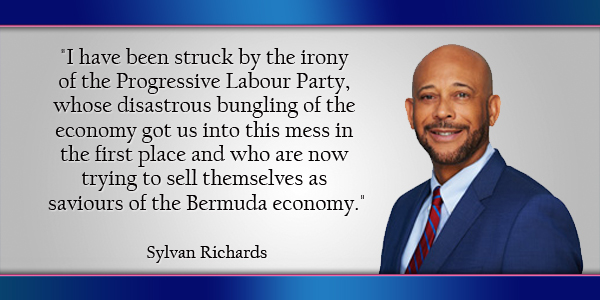 The Bermuda Fund, Mr Burt said, would be used for the purpose of generating "positive returns while investing in the development of Bermuda-based businesses. The fund could invest in industries identified to diversify the economy such as the offshore fisheries and aquaculture." He thought it could also be used to pay foreign companies to set up in Bermuda.
But here's the scary bit. He wants to siphon the money to start his Bermuda Fund from the Government's three Pension Funds!
These are the pension funds the SAGE Commission said were underfunded by more than $3 billion. These are the Pension Funds whose health is so precarious that every expert in Bermuda has warned that they could go bust in 30 to 35 years, depriving our senior citizens of the money they need in order to live. And these are the pension funds Bermudians are relying on to support their retirement years.
So the bottom line is that although the life of these three pension funds hangs in the balance… the PLP wants to raid them for funds to start an offshore fishing industry and whatever else they can conjure up.
It is enough to take your breath away!
But with David Burt and the PLP, I have come to expect these un-thought-through ideas instead of solid, thoroughly fleshed out business plans. You have to understand that this Bermuda Fund is just an idea, as is online gambling, starting an offshore fishing industry, deep-sea mining and raising fish in captivity. They remain just ideas… not a vision and certainly not a plan.
So, in order to come up with the details and a plan, Mr Burt wants to create another Government body called the Diversification Unit. He wants it to think these ideas through for him and come up with a plan.
"Mr. Speaker," he said, "as part of Vision 2025, the PLP would form an Economic Diversification Unit. This permanent organisation will consist of a small number of persons with a proven history of developing economies. The mission of this organisation would be to identify new opportunities for economic diversification and subject them to structured analysis and research. Once areas are identified and agreed, the unit will seek partners and investment to develop the new local industry.
"The Economic Diversification Unit's goal will be simple: to develop one new primary industry that directly provides at least 5% of our GDP and three new secondary industries that each directly provide at least 2% of our GDP by the year 2025."
I guess I have to two comments about this. First, he wants to expand the civil service even further beyond governments ability to pay for it, in order to develop additional business so that government can pay for the already bloated civil service which the PLP, during their term in government expanded beyond our ability to pay for it. Nothing shocking there when you consider the PLP's past track record of expanding the civil service!
Secondly, in order to get results from this new Government department, he's going to order them to get results. Order them to come up with ideas for the diversification of our economy. If you believe this new Government Department will actually snap to attention and deliver the results he wants then call me. I happen to own a bridge…
- Sylvan Richards

20 Most Recent Opinion Columns

Opinion columns reflect the views of the writer, and not those of Bernews Ltd. To submit an Opinion Column/Letter to the Editor, please email info@bernews.com. Bernews welcomes submissions, and while there are no length restrictions, all columns must be signed by the writer's real name.
-
Read More About