Shadow Sports Minister Michael Weeks extended his congratulations to the island's Carifta Games athletes, who combined to win some 22 medals at the events in Grenada and Martinique.
Mr Weeks said, "On behalf of the Progressive Labour Party, I would like to welcome back the Carifta track and field team who represented us well in Grenada over the weekend. We especially want to congratulate Sakari Famous, who was our only medal winner. Sakari won her fourth Carifta medal by winning a bronze in the Under-18 High Jump.
"We also want to celebrate our Carifta swimmers who won 21 medals at the swimming championships in Martinique. Special salutations go out to Emma Harvey, who won 10 medals [7 gold and 3 silver], in various disciplines, freestyle, backstroke, butterfly, and individual medley.
Bermuda's medal winning swim team after their return from the Games: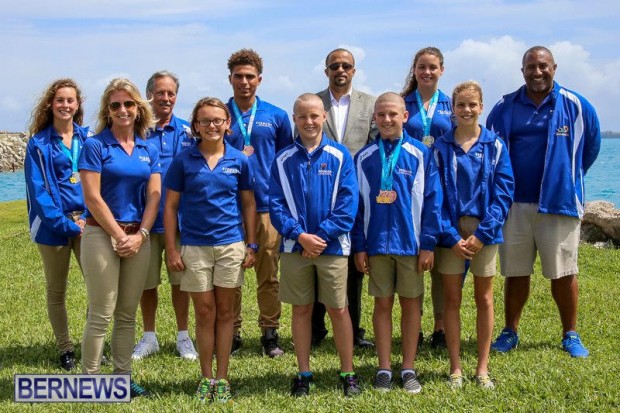 "Madelyn Moore won 2 gold medals and a silver, while Logan Watson-Brown, Jesse Washington, Jack Harvey, Vanessa Esposito, and Sam Williamson also had medal winning performances. We congratulate them all.
"We also want to congratulate other members of the team who achieved personal bests and put in good quality efforts, although not resulting in medals. We encourage you to continue working hard and training.
"Sports can be a very important part of a young person's development, and can teach many life skills. Sports can also be a vehicle for students to obtain high quality education by way of scholarships and further education awards.
"The Progressive Labour Party has always placed an important emphasis on sports funding and educational funding. We salute these young Bermudians and wish them well on their respective journeys."
Read More About