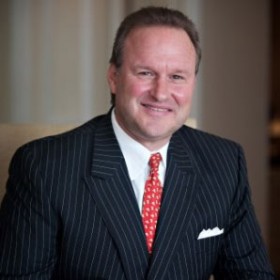 Elbow Beach announced that Randolph Wilcott, under his sales and marketing consulting company, RKW Group in Scottsdale, Arizona, has joined the resort as the Director of the Sales and Marketing.
"Mr. Wilcott comes to Elbow Beach with extensive knowledge and a deep understanding of the destination, having spent more than six years working with the property in the past through Mandarin Oriental," the company said.
"Mr. Wilcott is a leader in the luxury hospitality business, having worked with independent five-star hotels such as The Greenbrier Resort, The Boca Raton Resort, The Wigwam Resort and the Arizona Biltmore. His most recent assignment was with Mandarin Oriental for their triple five-star Las Vegas Property."
"We are thrilled to have Randy back working with the hotel," said Ed Burns, Owners Representative of Elbow Beach Bermuda.
"His tremendous experience and successful track record in the luxury hospitality realm, alongside his understanding of the property, make him a natural fit and an excellent addition to the resort's already strong team. We know Randy will have great success and will further strengthen the Elbow Beach brand. "
Mr. Wilcott commented, "I am very excited to be joining the Elbow Beach team once again. I am prepared to take the resort to the next level. I am returning to the property with additional resources in the hospitality arena under my company and I am eager to hit the ground running with my usual hands-on approach."
Mr. Wilcott has a Bachelor of Science from Purdue University in Restaurant, Hotel and Institutional Management, with a minor in Business Management. Today, Mr. Wilcott is an active United States Council Board Member of MPI and a life member of the Fiesta Bowl Committee.
In the past, he served as Chairman of the Group Committee for the Bermuda Hotel Association and ALHI Industry Advisory council [Associated Luxury Hotels, Inc.]
Read More About