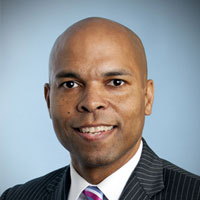 [Updated] Shawn Crockwell — who served as Minister of Tourism & Transport — has resigned as a Cabinet Minister, Premier Michael Dunkley confirmed this evening.
Speaking outside the Cabinet Office this evening, the Premier said, "I am disappointed to lose the Minister from the Cabinet. He has committed to continue to work with us on the backbench, and I want to take this opportunity to thank him for his service."
Mr Crockwell announced his resignation at the caucus meeting, and further details are limited at this time, however we will update as able.
Update: A formal statement from the Premier's office said, "I have accepted with regret Shawn's resignation as Minister of Tourism and Transport. He informed me and colleagues that he will remain with the party as a backbench MP.
"I am disappointed with this development as Shawn was an effective Minister who progressed the Government's agenda to restore workplace jobs and opportunity for Bermudians across the Island, from the formation of the Bermuda Tourism Authority, the Gaming Commission and the imminent development of a new hotel in St. George's.
"I will be calling the Governor shortly for a new appointment to the Cabinet so that we can continue the work to restore opportunity and prosperity to Bermuda."
Update: Quick audio comment from the Premier
Update: When asked last night about suggestions that Mr Crockwell may have resigned that he has lost confidence in his leadership of the party, Premier Dunkley said, "That's his opinion, and I think if you want any further comment on that, you'll have to speak to him.
"What I will say to the people of Bermuda, that we face very difficult times, and we have done from the time we took over. Decisions you make have broad-reaching consequences, and people will support those decisions, people will not support those decisions, people will become disillusioned with some of the decisions, and the progress, or lack thereof.
"We need to continue to move forward to deal with these challenges, and I'll continue to do that. We had a caucus meeting tonight, where the former Minister announced his resignation. I looked everyone in the eye at that time, and I asked them for their position going forward, and I have total support from the team.
"We will move forward, and I just want to thank Minister Crockwell for his service. Let's face it, when you're in the public eye in politics in this point in time, it's very crucial, very critical, and these challenges unfortunately do arise. I will continue to use it as a learning experience as we move forward."
When asked if he envisioned it coming, the Premier said, "I'm not going to talk about the things that I consider and ponder when I go forward. I know that the Minister's been concerned about some things. I still considered him to be a very trusted ally in what he says to me, and that won't change.
When asked if there had been any discussion on who his successor will be, the Premier said, "There's been no discussion on that at this point, I just left the caucus meeting and finished up some other paperwork that we had. I haven't gone that far yet."
Update: OBA Chair Lynne Woolridge said, "At a meeting of One Bermuda Alliance Parliamentarians yesterday afternoon Minister Shawn Crockwell announced his resignation from the Cabinet.
"I would like to thank him for his excellent work in Tourism and Transport and value his continued participation as a Member of Parliament for the One Bermuda Alliance.
"It was heartening that all MPs pledged their full support for the Premier as the leader of Bermuda and the One Bermuda Alliance."
Read More About