With a win in the Winners Edge Road Race — the first road race of the season held on Sunday morning — Dominique Mayho confirmed his position as the island's top rider with a dominant performance over a strong field.
After an outstanding ride 16-year-old Kaden Hopkins, riding in his first Adult A category race, crossed the line in second well clear of third placed Kwame Curling who had spent much of the race in a breakaway with his team-mate Mayho.
In the 36-mile B race another 16-year-old, Alyssa Rowse,  showed her male counterparts that she is a force to be reckoned with after she was outsprinted by just .046 of a second by Revelin Minihane, who took the victory. Adam Kirk took third after a close sprint.
Dominique Mayho and Kwame Curling. Photograph by Ricky Smith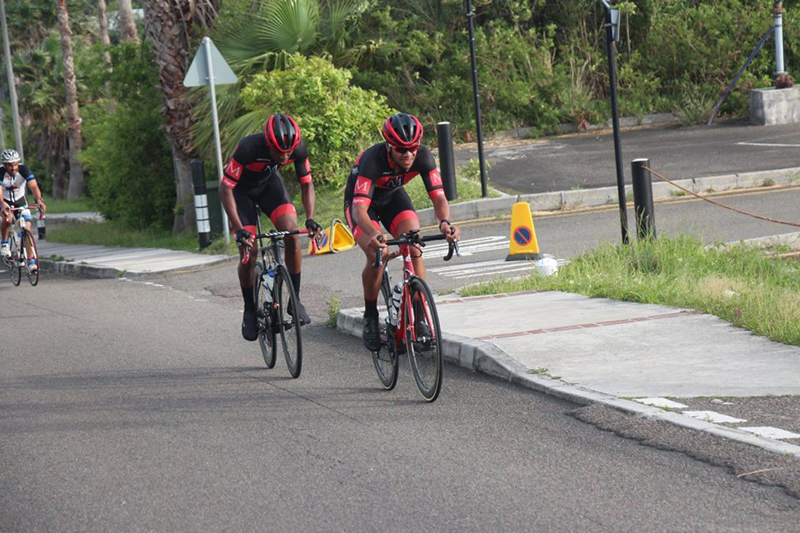 The women's field saw top runner Ashley Estwanick in an early break with Karen Smith, but Smith was not able to hold on and Estwanik rode away for an impressive solo victory. Smith was eventually caught on Palmetto Road by the chasing field with Martina Bell beating out Kristen Palmer to take second and third respectively.
After a long breakaway containing Ben Edwards, Tim Miller, and Ziani Burgesson in the C race, Miller eventually dropped off the pace leaving the other two to battle for honours, and it was Edwards who would take the win in a hotly contested sprint for the line with Burgesson, while Kion Richardson finished third.
In the two junior races, Caleb Ingham won the A race ahead of Alex Southern and Enshe-Nico Davis in their 18-mile event. Blake Oliviera was a clear winner in the B race with Manning Smith and Megan Hands rounding out the top three as they completed their 6-mile race.
The full Winners Edge Road Race results follow below [PDF here]:

Read More About