[Written by Kristen Taylor]
Time to lace up your running shoes and get your iPod stocked up with tunes because Cornerstone Foundation's Race for Change is now scheduled for April 17th, 2016!
Get ready to walk/ride/run the 5km route for adults, 1km route for kids, and enjoy the excercise and beautiful scenery in St. Davids. This is a family event with something for everyone! There's going to be hot dogs and ice cream, a bouncy castle, music and an all around great time!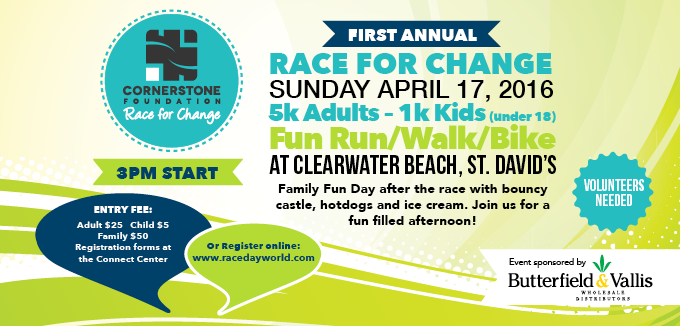 The Race for Change is a fund-raising event for the Cornerstone Foundation that came about as a response to the gang violence prevalent on the island. Cornerstone Foundation is an internationally and locally recognized charity focused on helping at-risk youth, incarcerated youth, and families who need a helping hand in their own personal battle.
The goal of the charity is to provide individual help and advise to Bermudians who are struggling by giving them the tools to get them back on their feet and excel.
For one individual, that may mean helping them pay for courses at Bermuda College; for another, it may be inviting their family to participate in the Christmas Store that's outfitted with necessities and gifts at prices far below cost.
Equipping Bermudians to help themselves encourages Bermudians to be empowered in the knowledge that they are ultimately providing for their families.
Cornerstone Foundation also recognizes that God created every individual with intrinsic value. Our goal is to help families and at-risk youth to discover this truth in a very practical way. Our Mentoring Programs, Back to School Store, Christmas store and Cornerstone Kid's Camp are all designed to help support the family and encourage positive contribution to our community.
Register today on racedayworld.com or fill out a registration form and drop it off to the Cornerstone Foundation's office, 82 Church Street.
$25/adult, $5/child. There is a special Family Rate of $50. When filling out your information online, simply register one individual at a time and the calculator will include the family rate at the checkout.
The race day begins at 3pm at Clearwater Beach in St. Davids. It is a non-timed 5km or 1km race that welcomes walking, biking or running. Register your family and friends and enjoy the afternoon!
Come join us for a fun-filled day and support your fellow Bermudians! It takes a village.
Read More About