Representatives from various sporting organisations held a meeting today to find a solution to the scheduling issue on June 4th, when the National Sports Centre is set to host the Bermuda vs Dominican Republic football match, the Hiscox Celebrity Cricket Festival, the Men's National Rugby World Cup Qualifying match and the Atlantic Rugby Cup.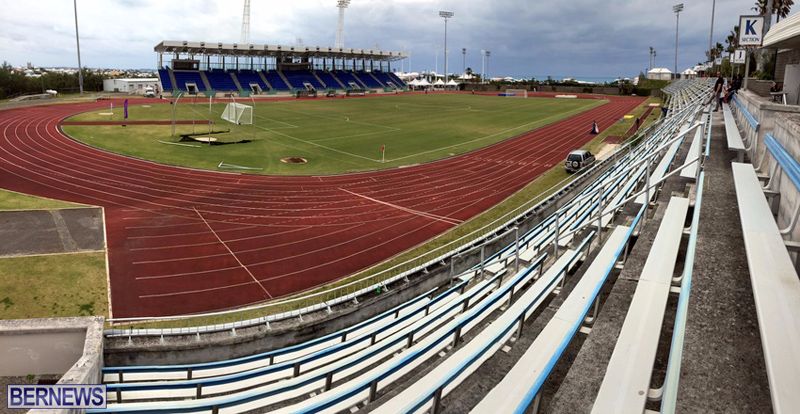 A spokesperson from the NSC said, "In respect of the events scheduled at the National Sports Centre on 4 June 2016, representatives from the following organizations attended a meeting at NSC today.
National Sports Centre [NSC]
Bermuda Cricket Board [BCB]
Bermuda Football Association [BFA]
Hiscox Bermuda
Bermuda Rugby Football Union
"After a productive and useful discussion it was agreed as follows:
The BFA will host the international football match at the Main Stadium with a kickoff at 9:00pm
The Hiscox Celebrity Cricket Festival will remain at North Field starting at 8:30am and finishing early to allow sufficient time for the rugby to set up
Rugby will move their matches to the North Field starting at 3:30pm with an under 19s match, following the conclusion of the Hiscox Cricket Festival.
The Men National Rugby World Cup Qualifying match will now kick off at 4.30pm on the North Field with the Atlantic Rugby Cup kicking off at 7.30pm.
"All representatives were keen to work together and were equally enthusiastic that Bermuda would be hosting such exciting sporting events together at the NSC.
"Further, the representatives were agreed on:
The importance of international qualifier matches for Bermuda
Supporting our young people and corporate partnerships
Providing first-class facilities and staff to support the events
The importance of the World Cup Qualifier for the Bermuda National Men's Rugby team
"The Associations will each release information on their specific events to assist the public in attending the sport of their choice on 4 June at the National Sports Centre."

Read More About