America's Cup teams will take centre stage on June 25th at the Royal Naval Dockyard when America's Cup Bermuda [ACBDA], in conjunction with WEDCO, host "Foil Fest 2016", featuring Artemis Racing, ORACLE TEAM USA [OTUSA] and SoftBank Team Japan.
Foil Fest presents a unique opportunity for the public to witness the incredible speed and technology of the hydrofoiling catamarans, as well as tour the Dockyard bases of OTUSA and Team Japan. Artemis Racing will also have a public presence at the event.
A free 'event village' will offer other family friendly activities, while all three teams will also have their AC45 catamarans on moorings at Dockyard for public viewing.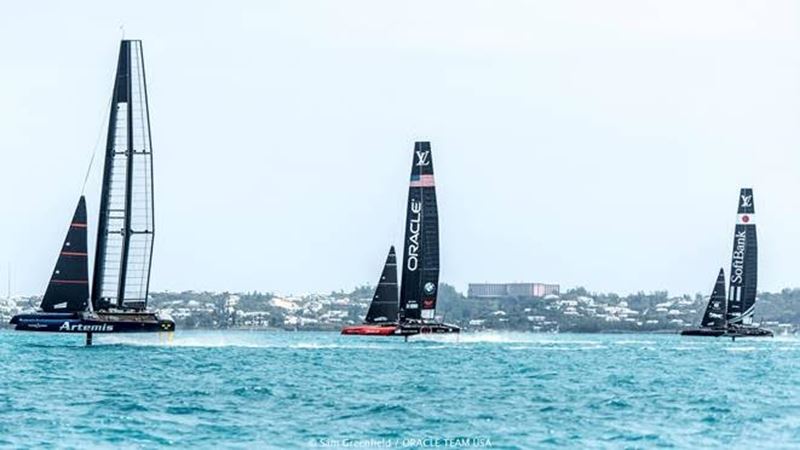 The sailing teams will then take to the water later in the afternoon for a series of 'drag races' to showcase the incredible speed of the race boats that are presently in the testing phase, as the teams design and build their official boats for next year's finals.
Mike Winfield, CEO, ACBDA, says: "The boats will do their speed runs right next to the cruise ship docks in Dockyard so that the spectacle can be enjoyed as easily on the shore as on the water.
"These boats are much more powerful, and faster, than the ones we saw in October and the teams are all very excited about showcasing them to the people of Bermuda, one year out from the America's Cup in 2017."
On shore the public can look forward to fun-filled day with the event hosted by DJ Rusty G and Glenn Jones. A free zip-line and kids zone, food, beverage and other vendors, plus taster sessions with the America's Cup Endeavour programme will ensure something for all ages.
Andrew Dias, General Manager, WEDCO, says: "We're looking forward to having the public come out to Dockyard and get another taste of America's Cup excitement. There's been so much progress in Dockyard this year and I think people will enjoy getting a feel for that too."
The Foil Fest racing schedule will also include some of Bermuda's other wind-driven fleets including Optimists, Comets, Kite Surfers and more. Each fleet will be given the opportunity to make the 800-metre run as quickly as possible.
Mr Winfield continued: "We've come up with a concept that will allow broad participation both on shore and on the water. It's going to be a lot of fun for all who participate, including the America's Cup teams. This is being specially planned and presented for the people of Bermuda so we don't want anyone to miss it."
Foil Fest 2016 will take place from 11am to 4pm on Saturday June 25. More details concerning parking, the schedule of events and transportation will be shared in the coming weeks.

Read More About