The stakes at Foil Fest have been raised with Bermuda's three resident America's Cup teams, Artemis Racing, Oracle Team USA and SoftBank Team Japan, putting some money where their speed is… for a good cause.
The three teams are donating a combined $12,500 with the winners of the June 25 event choosing a local charity to receive the donation.
Mike Winfield, CEO, America's Cup Bermuda [ACBDA] says, "Foil Fest has always been about Bermuda, so it's fantastic that the teams have decided to race for charity. It should also add to the competitive edge of the races."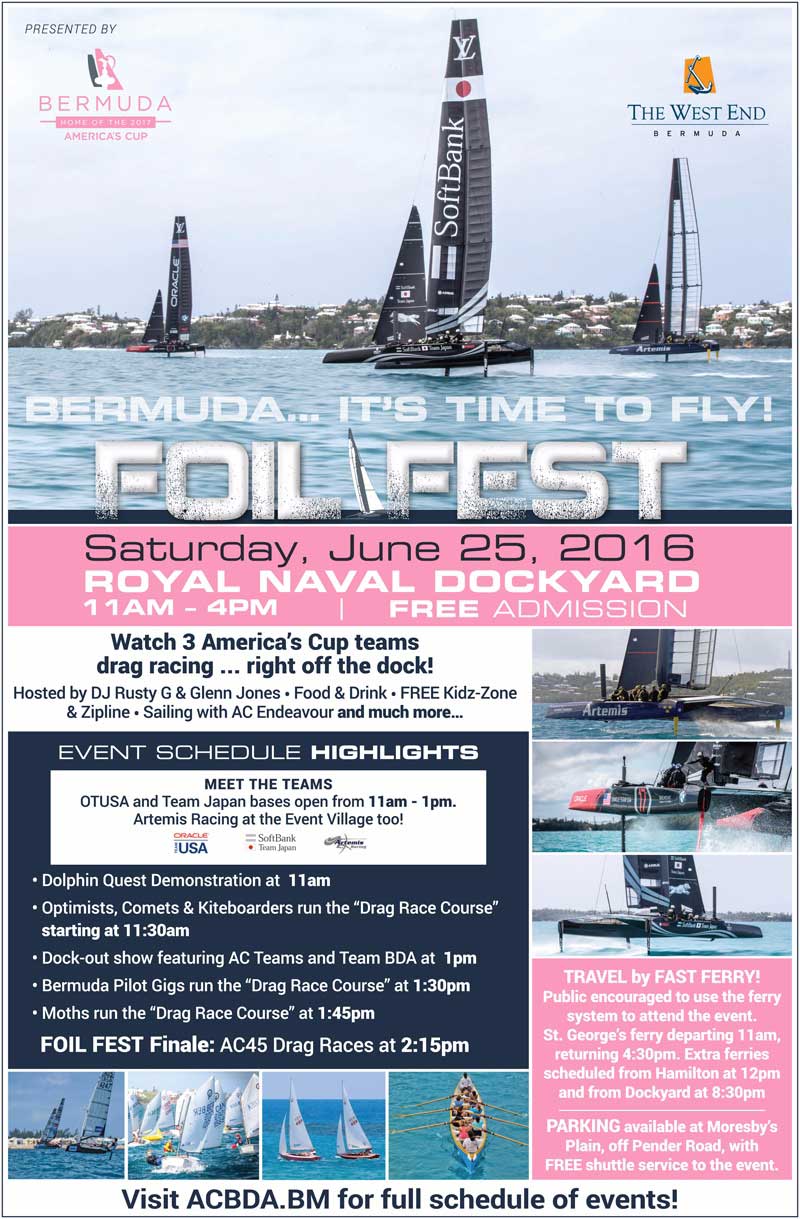 The format for Foil Fest will see the three teams duel in a series of 'speed runs' just off the cruise ship docks in Dockyard. It is a unique format designed to bring the action as close to shore as possible.
Jimmy Spithill, skipper, Oracle Team USA, says: "We've been in Bermuda for over a year now and we are a part of this community. The America's Cup is very much a 'winner-take-all' competition and this has the same spirit – but we're doing it for a good cause."
In addition to exciting action, close to shore, the America's Cup teams look forward to welcoming the public to the event. Oracle Team USA and SoftBank Team Japan will have their Dockyard bases open from 11am to 1pm, while Artemis Racing, based at Morgan's Point, will also have a presence at the event.
Dean Barker, skipper and CEO, SoftBank Team Japan, says, "We had the pleasure of combining a sake toast with a traditional Bermuda 'roof wetting' when we opened our base last month. The community has been very supportive and accommodating and it's great to have a chance to return the hospitality."
Foil Fest will be held from 11am to 4pm on Saturday, June 25 and will also feature taster sailing sessions with the America's Cup Endeavour program and a 'course-side' event village offering food, drink, a free kids-zone and other vendors and activities for land-based spectators.
Additional racing will include local fleets such as Optimists, Comets, Kiteboarders and Moths. Dolphin Quest and the Bermuda Pilot Gigs will also put on demonstrations at the event.
Admission to Foil Fest is free and the public is encouraged to travel to and from the event using the public ferry system.
A St. George's ferry will depart at 11am and return at 4:30pm while an extra ferry will leave Hamilton at 12pm and a late, 8.30pm, ferry has been added to the schedule for those who wish to stay in Dockyard for dinner.
Those travelling by car will be able to park at Moresby's Plain, off Pender Road, and a complimentary shuttle service will provide transportation to the event from there.
Mr Winfield says, "We always intended this event to bring the America's Cup closer to the people of Bermuda and we appreciate all the support we've had in helping make that to happen."
Community supporters of Foil Fest are Butterfield &Vallis, BF&M and Butterfield Bank.
For more information, visit acbda.bm/foil-fest-2016.

Read More About