People from around Bermuda are invited to a fun filled event on Saturday [June 25] from 11am to 4pm in Dockyard, with America's Cup teams set to take part in Foil Fest 2016, including Artemis Racing, Oracle Team USA [OTUSA] and SoftBank Team Japan, with the event hosted by America's Cup Bermuda [ACBDA] and WEDCO.
Foil Fest features many activities taking place across Dockyard and in the adjacent waters. The public will have a unique opportunity for an up close look at the incredible hydrofoiling catamarans, as well as being able to tour the Dockyard bases of OTUSA and Team Japan. Artemis Racing will also have a public presence at the event.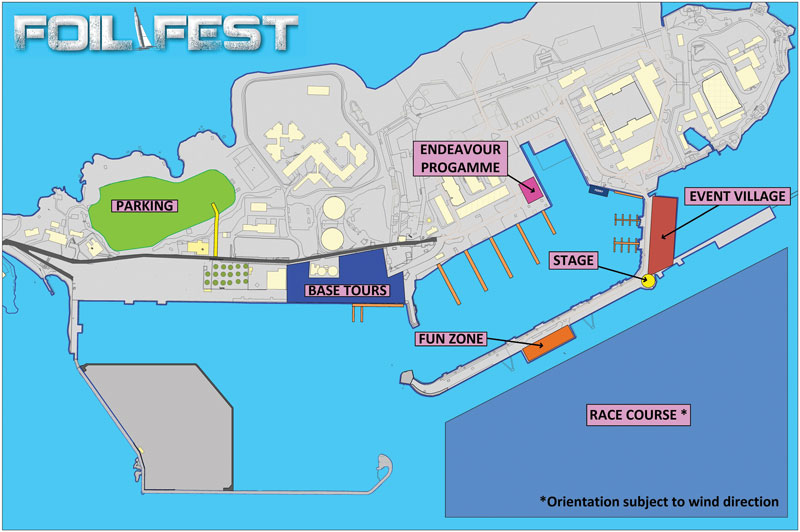 Plans have been put in place to make the event accessible for the public. Attendees are encouraged to use the public ferry system to travel to Dockyard.
The regular Saturday ferry schedule will run that day in addition to a 12 noon ferry to Dockyard and a late 8:30pm ferry returning to Hamilton for those who wish to stay and have dinner in the west end. A special 11am ferry will depart from St. George's to Dockyard and return at 4:30pm.
For those who prefer to drive, free parking is available to Moresby Plain via the new road that was completed earlier this year. A shuttle will transport drivers to Dockyard, free of charge.
Boaters will be allowed to raft-up near the race course as general public spectating on water is permitted. An area marked with yellow buoys will be a no-go zone for safety purposes, which is around the race course. Course marshalls and marine police will be on site to keep the race course clear.
There is no registration for boats and boaters are asked to travel five knots and cause no wake around the race area. Boaters are asked to exercise caution at all times.
Base tours at OTUSA and SoftBank Team Japan will be held from 11am to 1pm only. This is the first time the community has been invited to tour the bases, an opportunity typically afforded to sponsors and team guests. Dolphin Quest will hold a demonstration from 11am to 12:30pm followed by Coconut Rockets Flyboarding at 1:45pm and AC Endeavour sailing sessions.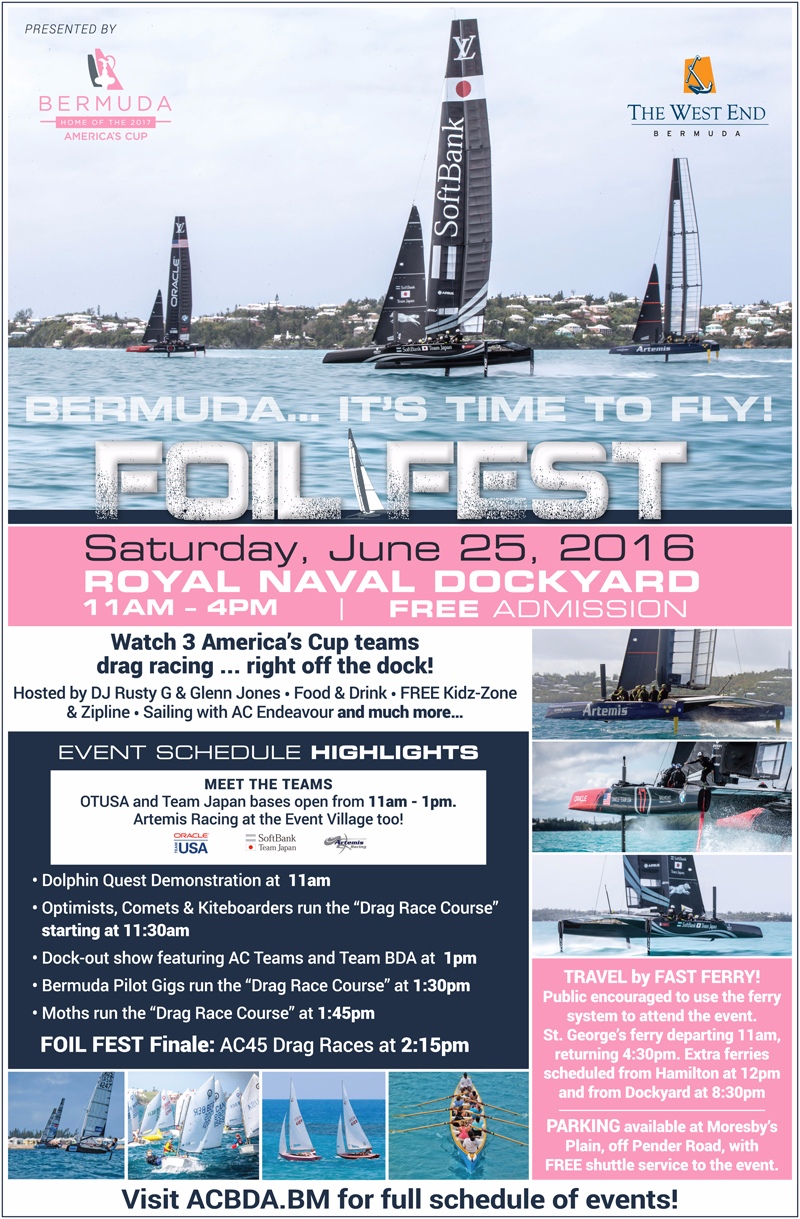 Additionally, the Foil Fest racing schedule will also include some of Bermuda's other wind-driven fleets including Optimists, Comets, Kite Surfers and more. Each fleet will be given the opportunity to make the 800-metre run as quickly as possible.
The on-water activity starts at 11am with the International One Metre demonstration race, followed by the Optimists at 11:30am and the Comets at 12noon. The Kiteboarders will do a demonstration run at 12:15pm followed by the Dock Out Show hosted by Glenn Jones with the America's Cup sailors at 1:10pm.
The Pilot Gigs will start their race at 1:30pm followed by the moths at 1:45pm. And the main event, the AC45 drag races will happen at 2:15. The Dock In Show, prize presentation and introduction of Team BDA will take place at 3pm.
Mike Winfield, CEO, ACBDA, says, "We are excited to host this event and encourage the community to travel to Dockyard for a great, family fun day. The teams are looking forward to showcasing the new boats to the people of Bermuda and hopefully the wind cooperates. Thank you to our supporters for Foil Fest – Butterfield & Vallis, Belco, Butterfield Bank, BF&M and Logic."
For more information on Foil Fest, please visit acbda.bm.

Read More About