Promising "another lively and thought-provoking evening," PechaKucha Bermuda is hosting its 15th edition on Thursday, May 12.
The event will take place from 6.00pm until 9.00pm at Bermuda Society of Arts located on the third floor of City Hall, with eight different presenters set to speak about subjects they are passionate about.
The presenters will include Traci Burgess, Akilah Beckles, Cushi Ming, Christopher Famous and Kim McIvor, Agathe Holowatinc, Earl Jones and Tania Stafford. The short 6 minute and 40 second presentation topics are varied and enlightening. The topics will include "The Art of Protest", "Cosmos – A brief View of our Universe", "Illness to Wellness: A Family Journey with Mental Health," "Fuelled," and more."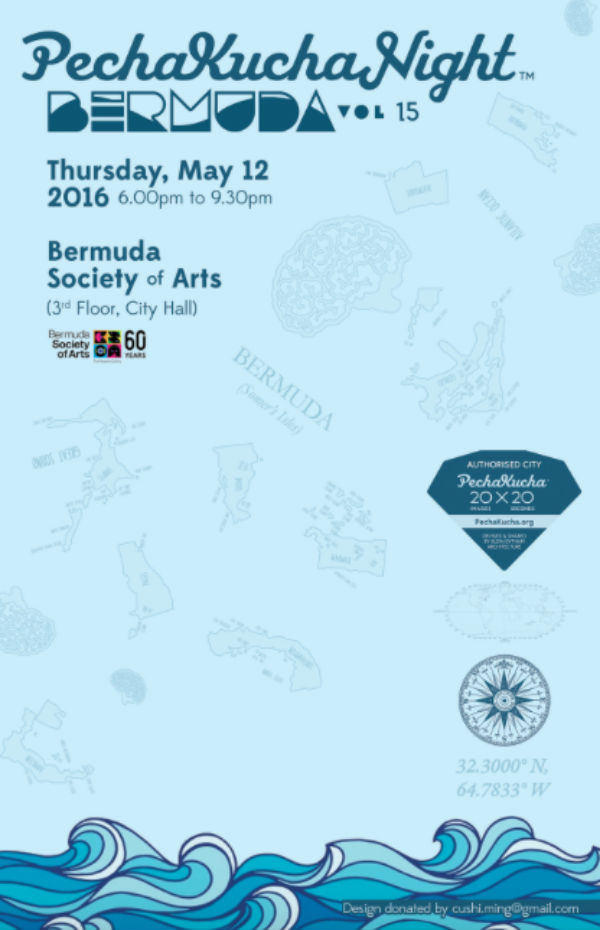 A spokesperson said, "PechaKucha Bermuda Nights are a simple, effective and entertaining way of telling a story or idea. Each speaker shows 20 images to accompany their presentation, each image the speaker can only speak for 20 seconds.
"Since there is no pausing or going back, speakers have no choice but to keep to their allotted time. Following each presentation is a 3 minute 20 second question and answer session where the audience has the opportunity to ask the presenter questions."
There is no cover charge but donations will be accepted. For more information, visit the PechaKucha Bermuda Facebook page, or contact Nicky Gurrett on 295-4597.
Read More About
Category: All, Entertainment