[Updated] The Adult Education School will hold a graduation ceremony today [June 21] to celebrate the accomplishments of the students who passed the General Education Development [GED] examination this academic year.
"Over 100 people will attend the ceremony, to be held this evening at O'Hara House, for the 26 graduates, eight female and 18 male," a spokesperson said.
"Bishop Stephen Jones will deliver the Guest Speaker's Address at the event, with Zerriko Wilson giving the Valedictorian's Address while Joi Dyer-Richards will deliver the Salutatorian's Address.
Update 6.37pm: Photo of the graduates: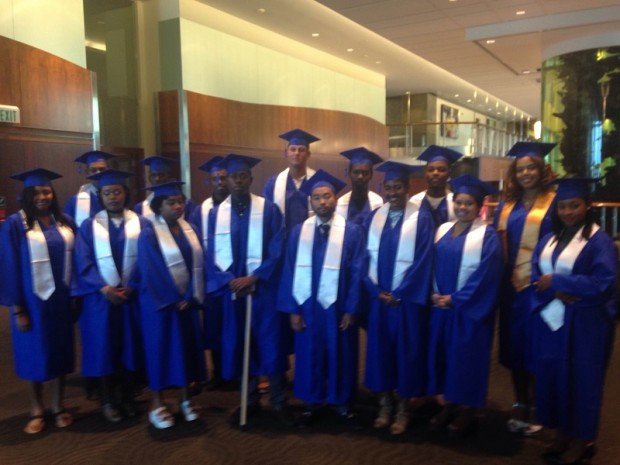 "The GED is an internationally recognized high school equivalency test with a 70-year history. The test is aligned with current high school standards and consists of four content areas: Reasoning through Language Arts, Mathematical Reasoning, Science and Social Studies.
"This pool of graduates has successfully achieved the rigorous standards of the new GED test which was first implemented in January 2014.
Donna Daniels, Director of the Adult Education School, commented: "In passing the new test, these students are better prepared for further education and placement in today's workforce.
"They have achieved a higher level of performance and they are better equipped to meet 21st century standards in critical thinking, problem solving and verbal and written communication.
"Today's graduation ceremony serves as a new beginning. Whether they continue their education locally or abroad, or enter the world of work, I hope they do so with knowledge, wisdom, character, integrity and a sense of humanity."
Gerald Simons, Chairman of the Board of Directors, observed: "For nearly sixty years the Adult Education School has provided an alternative education for people in Bermuda who have not succeeded in traditional schools. The school is especially important to young men who, once again, make up the majority of the graduates."
The 2016 GED graduates are:
Lakeisha Burt
Joi Dyer-Richards
Lennae Edwards
Delun Fishenden
Cavin Francis
Alex Hayward
Freeman Lema
Joshua Lightbourne
Creig Maybury
Joshua O'Brien
William Orchard
Thomas Patterson
Antonia Paynter
Kaylaya Pendleton
Hzsaiah Rampersad
Nathan Richardson
Shai Richardson
Pothchara Satathanasak
Zari Simmons
Chanigh Smart
Tijuan Swan
Jason Symonds
Satchel Tucker
Tyanna Webb
Khyren Wilson
Zerriko Wilson

Read More About