Generation Next is inviting the public to attend a Youth Town Hall Meeting to be held at 5.45pm tomorrow [June 22] in the Dr. E.F Gordon Hall at the Bermuda Industrial Union building, with the speakers to include John Barritt, Destinee Taylor, Aminah Simmons, Eron Hill, and others.
Eron Hill previously said, "We believe that it has become overwhelmingly important, that young people recognise both the importance in their vote and the opportunity to secure their future by voting. Notwithstanding voting being one of the centre piece topics, we also recognise the political turmoil in Bermuda and the lack of contribution given by young people."
"It is often said, that decisions are made in the best interest for the future and sustainability of Bermuda, yet no consultation has been established with the future of Bermuda – the young people.
"It as vitally important that we not only feel a part of the process in shaping Bermuda, but that we contribute to the process. We believe it to be vitally important that we not only feel a part of the process in shaping Bermuda, but that we contribute to the process.
"We further believe, that all young people in attendance will walk away revived and reassured that the change we have been promised will come to fruition.
"Generation Next will present the government and opposition with a proposal for collaboration on legislation that will allow for automatic voters registration for young people when they turn 18 as well as a formal request that legislation regarding absentee voting for students abroad in school be brought before the House before the end of the year."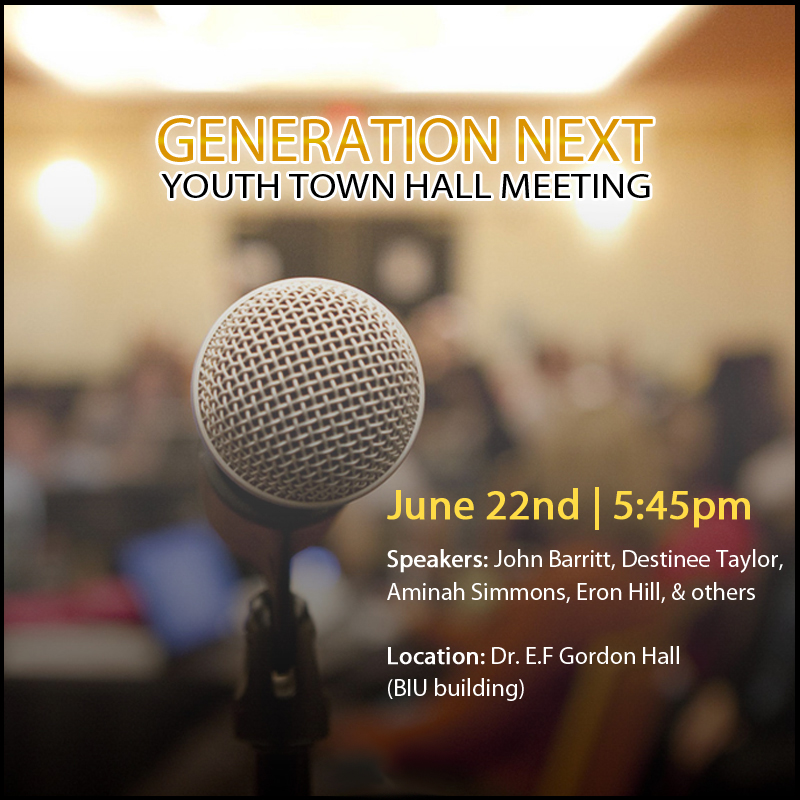 "There will also be a robust proposal for the implementation of International Baccalaureate and The General Certificate of Education [GCE] Advanced Level program [A-levels] within our public education system.
"We would be grateful for your support and attendance to hear and appreciate first hand, the issues plaguing our young people, and to be involved in the process of identifying, assessing and resolving these issues.
"All young people are encouraged to come prepared ready to make change. Our time for taking action is long overdue. We are optimistic that you will make every concerted effort in attending this event, and will walk away knowing that you are viewed at as a valuable stakeholder in our island home."
"Generation Next would like send a special thank you to Zane & Joanne Desilva of Island Construction Services and Dr. The Hon. Ewart Brown and Mrs. Wanda Henton- Brown of Bermuda HealthCare Services for their continued and unwavering support of Generation Next and our youth initiatives.
"Premier Michael Dunkley has been extremely supportive of our group and we are greatly appreciative for all of the support, encouragement, and assistance.
"We vow to continue this initiative and it is our hope that through these efforts young voters will be motivated to get involved, to understand how the political process affects their everyday lives and inspire them to become the change they desire to see in our island home.
"We take this time to thank everyone for their continued support and encouragement; we look forward to your presence and input on June 22nd."
Read More About
Category: All