On Friday, June 17 the Bermuda Health Foundation will host their 14th Annual Salute to Service Awards Luncheon, with the Foundation raising funds every year to assist Bermudian students who are studying for careers in the medical field.
This year, over 65 outstanding students submitted applications; to date, the Foundation has presented 39 scholarships totaling almost $400,000.
A spokesperson said, "In addition to the scholarship awards, the Bermuda Health Foundation will honour John Wight, President and CEO of BF&M Insurance Group with their Annual Salute to Service Award for his contribution to the insurance industry in particular and the Bermuda community generally. Mr. Wight is also the President of the Bermuda Chamber of Commerce.
"Because of his contribution to the business community in Bermuda, the Foundation is expecting a sell-out audience at this year's luncheon."
Bermuda Health Foundation's Charity Golf Tournament 2015 winners; BECLO's Team with the Foundation's Board members Dr. Ewart Brown, Philip Butterfield and Vincent Hollinsid: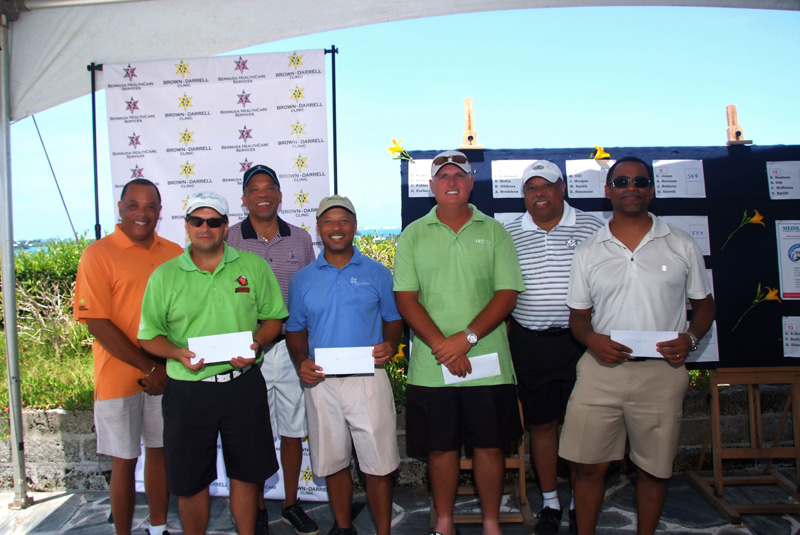 "The Bermuda Health Foundation Charity Golf Tournament is one of the favourite tournaments on the golfing calendar in Bermuda. In addition to attracting some of the best golfers in Bermuda, the tournament also attracts international golfers.
"This year's prizes for the top three teams include travel vouchers in the amount of $500.00 for each winning team member, four golf watches the second place winner, and golf bags for the team coming in third. Last year's winners, the Belco team will once again vie for the coveted first prize."
Tickets for the luncheon are available at $125 each and the entry fee for the golf tournament is $150 per person or $600 per team. Persons interested in either event should contact LaVerne Furbert at lavernef@northrock.bm or on 335-8232.

Read More About