The Department of Education and Lombard Odier have collaborated to offer students at Northlands Primary school Spanish classes. During this academic year, the company sponsored half hour of Spanish instruction each week with two Primary 5 classes.
Last year, Mrs. Charmaine Tucker, President and CEO of Lombard Odier, contacted the former Education Officer for Foreign Languages, Ms Lydia Perinchief [now retired], to indicate the company's interest in helping to re-introduce foreign languages into primary schools.
Northlands had a Spanish afterschool club and the school principal, Mr. Charles Joynes, felt that it would be good to continue the language learning more formally.
Levyette Robinson, Department of Education; Charmaine Tucker, CEO Lombard Odier; Nothlands students Kaelyn Fleming; Shayla Greene, Sarai Packwood, Dhulche' DeSilva; Fedra Humphrey, Joshua Fleming; Ronald Lightbourne, Teacher and Charles Joynes, Northlands Principal.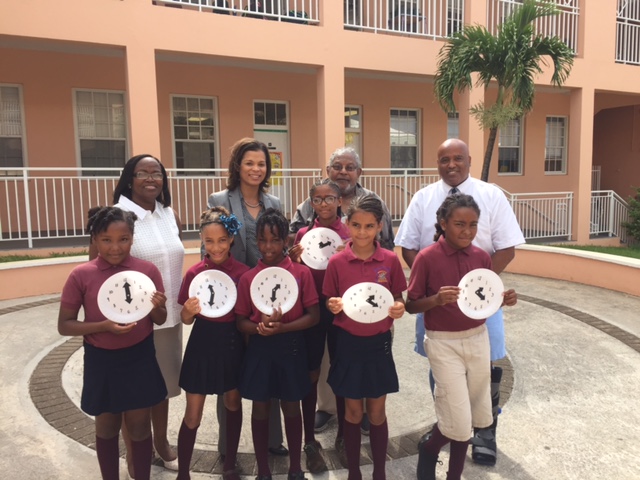 Mrs. Tucker said, "For an international group like Lombard Odier, language skills are key.
"Just like many of our employees, our students will be interacting in the future with others around the world on a daily basis and doing business locally with those whose native language is not English.
"It is important that our children begin learning languages at an early age in order to be equipped to enter the workforce in International companies in Bermuda and abroad."
Teacher Ron Lightbourne has taught the students basic greetings, basic vocabulary and expressions to start learning to communicate in Spanish. Students have been to actively speaking in class, and have very quickly become familiar with the language.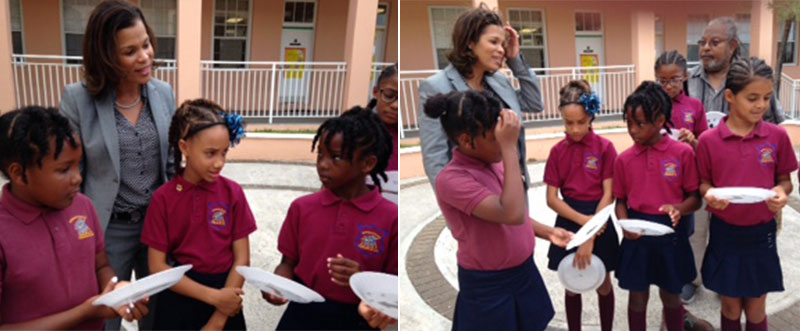 The Ministry said, "Research shows that studying a second language activates areas of the brain that foster creativity. Research also shows that students do better on standardized tests in English and other subject areas when they study a second language. This is because the skills that they learn from listening, speaking, reading and writing are all transferable."
Minister of Education Wayne Scott said, "Thanks to our international business partners, Lombard Odier Bermuda, we are very pleased to be able to offer the Spanish language course at Northlands.
"The Ministry sincerely appreciates the generosity of Lombard Odier for offering a hand of assistance to our schools. We welcome the assistance from our local business partners and we are open to more opportunities like this in the future."
Current Education Officer for Foreign languages, Ms Levyette Robinson said, "I am grateful for the opportunity that has been given to Northlands Primary. It is our hope that other businesses will get involved to help to bring Foreign Language programmes into more primary schools."

Read More About
Category: All