Moody's Investors Service has downgraded Bermuda's issuer and senior unsecured ratings to A2 from A1, and said the outlook remains stable.
In response to the downgrade, Minister of Finance Bob Richards said, "Given the momentum we continue to gain in reducing the deficit, as outlined in the government medium-term expenditure framework, it is disappointing that Moody's has chosen to downgrade Bermuda."
The Minister of Finance said the report will not change his plans to balance the budget by fiscal year 2018/19, saying: "Keys to getting Bermuda back on a balanced footing include avoiding becoming too aggressive in cutting expenditure, because that would mean huge lay-offs and/or cuts to government programs such as Financial Assistance, Health and Education. Also we must not excessively increase taxes, because that would only put a burden on our people and discourage foreign direct investment."
The Minister further added, "Standard & Poor's affirmed our rating at A+ and furthermore, in February of this year, Moody's published a glowing report on Bermuda titled 'Bermuda's Fiscal Consolidation Efforts Bear Fruit, a Credit Positive.' It would therefore seem inconsistent that Bermuda should be downgraded by Moody's now."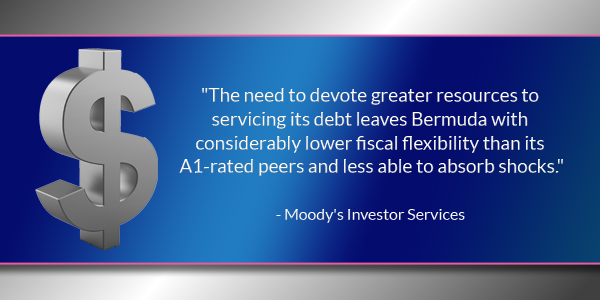 The statement from Moody's said, "The key drivers of today's rating downgrade are the following:
1] Despite improved economic prospects, Bermuda's economic strength continues to lag that of A1-rated sovereigns.
2] Bermuda's fiscal strength continues to trail many A1-rated peers due to its high interest burden even as its debt metrics have stabilized at a moderate level.
"The stable outlook reflects our view that with economic prospects beginning to improve and the government's consolidation program expected to support a gradual improvement in the fiscal position, debt metrics will remain stable over the rating horizon.
"The country's foreign currency long-term bond and bank deposit ceilings were changed to Aa3 from Aa2 and A2 from A1, respectively. Foreign currency bond and deposit ceilings remain P-1. The local currency ceilings were changed to Aa3.
"Despite having experienced positive growth in 2015 for the first time since 2008, Bermuda's economic strength remains some way below that of its A1 rating peers. At 'Moderate (-)', Moody's assessment of its economic strength is below the 'High' median score for A1-rated sovereigns, and more in line with lower A-rated peers.
"That score balances Bermuda's high level of wealth and a highly internationally-competitive insurance industry, against its small, open economy and weak growth performance and prospects. On a comparative basis, Bermuda's economy of $5.8 billion is very significantly smaller than the 'A1′ median of $256 billion.
"Even as the country emerges from recession, we do not think that the negative impact of its size on its credit profile will be compensated for by growth: we forecast that Bermuda will grow on average 1.8% annually in 2016-20, lower than the 3.0% median forecast for A-rated peers.
"The latter factors weigh on the island's overall economic resilience and point to Bermuda's higher susceptibility to shocks than A1-rated sovereigns.
"Despite continued challenging economic conditions, the government's adjustment measures taken under the Medium Term Expenditure Framework have led to the stabilization of its debt-to-GDP ratio at about 40% since 2013. At this level, Bermuda's debt burden is in line with the median for A1-rated sovereigns.
"However, given Bermuda's more narrow revenue base, its interest burden is significantly higher than that of its A1 rating peers, with the interest payments-to-revenue ratio exceeding 12% — the second highest among A-rated sovereigns — compared to a 4.5% 'A1′ median.
Moody's rating scale chart extracted from their ratings definition reference guide [PDF].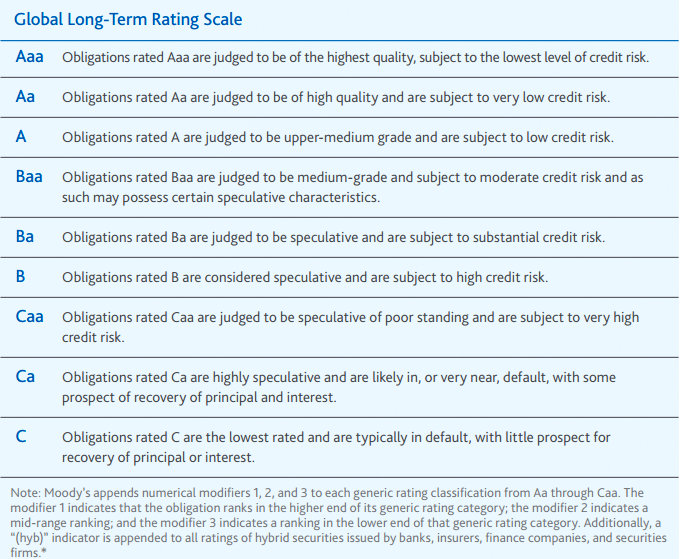 "The need to devote greater resources to servicing its debt leaves Bermuda with considerably lower fiscal flexibility than its A1-rated peers and less able to absorb shocks. Moody's assessment of Bermuda's fiscal strength remains 'High (-)', below the 'Very High (-)' median score for A1-rated sovereigns.
"The stable outlook is predicated on a return to positive, if moderate, economic growth and declining budget deficits in the next few years which should allow Bermuda to retain economic and fiscal strength consistent with its A2 peers.
"The Bermudian economy experienced a recession between 2009 and 2014, with output contracting on average 3.3% annually. Moody's estimates that Bermuda emerged from this recession in 2015, with GDP expanding about 1.5% in real terms last year.
"Positive economic momentum should carry into 2016 and 2017 supported by increased tourism activity related to the 2017 America's Cup, as well as by increased investment on tourism-related and public infrastructure projects. Moody's expects that the economy will accelerate to 2.3% on average in 2016-17 and will grow 1.0-2.0% during the following three years.
"The fiscal outlook will be closely tied to the economy's performance as additional deficit reductions will rest more on revenue measures in coming years. Authorities envisage balancing the budget by 2018/19.
"This fiscal path would ensure that the government's debt metrics remain stable, although Moody's does not expect a significant decline of the interest burden."
Read More About