Twelve Bermudian undergraduates left for Atlanta, Chicago, and London this past weekend in order to start their two week BFIS 'Intro‐to‐insurance' summer intern programmes.
Each team of four students will be "learning in depth about all aspects of the insurance business."
Traveling to Atlanta were Chelsy Furtado [accounting/Acadia], Tyler Kerr [finance/Western Ontario], Alexandra McMartin [business communications/Brock], Daniel Ritchie [economics/Utrecht]; traveling to Chicago were Kyle Burgess [economics/St. Mary's College of Maryland], Stephen Cox [project management/Elon], Julia Judd [accounting/Northeastern], Melanie Mendonca [international business/Western England]; and traveling to London were Eleanor Boyle [economics/Rollins], Jessica Burns [business management/Warwick], Tatyana Butterfield [risk management & insurance/Temple], Rachel Soares [international business/Western England].
A spokesperson said, "Over 30 companies and organizations will be hosting the students for meetings, presentations and work‐ shadowing. In addition to the intensive schedule, each group is also required to make the most of their free time by enjoying what each jurisdiction has to offer in terms of history and visitor experiences."
Cathy Lapsley, BFIS Executive Director, said, "This is 11th year we have been able to offer students the opportunity to learn all they can about the insurance business in overseas markets; Chicago started in 2006, London in 2008 and Atlanta in 2012."
[Front row] Daniel Ritchie, Melanie Mendonca, Rachel Soares, Tatyana Butterfield, Eleanor Boyle. [Back row] Tom Svensen, Arthur Begeman, Tyler Kerr, Kyle Burgess, Jane Bielby [BFIS], Alexandra McMartin, Terry Pimentel, Julia Judd, Stephen Cox: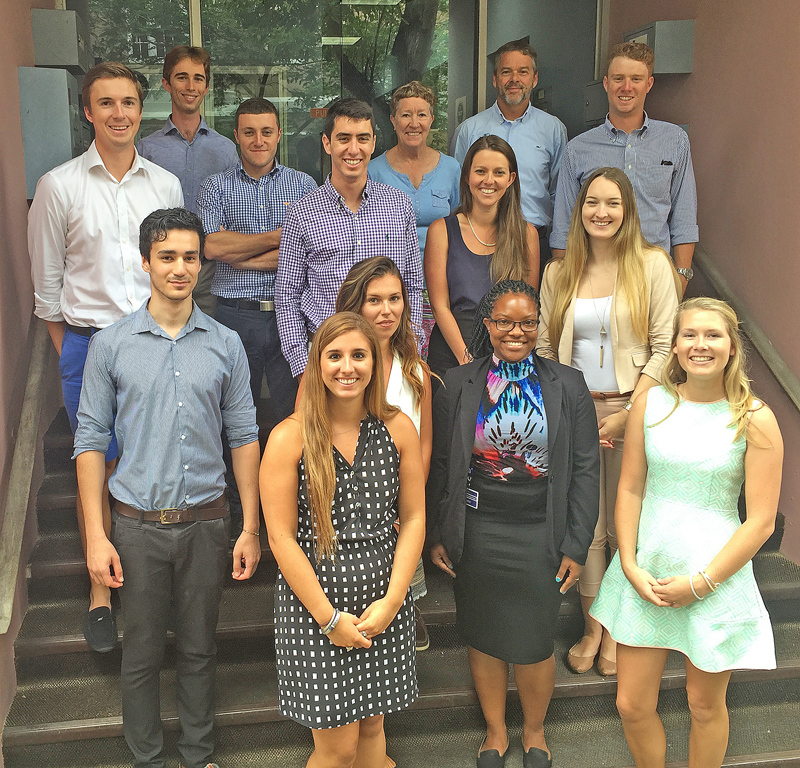 "We have found that these two short weeks can make an immeasurable difference to the students and help them to clearly focus on the direction their career will take. The number of students who have participated in the BFIS intern programmes totals 129, with almost all of those who have graduated now working in the insurance sector."
"It takes a lot of organization and planning to coordinate these programmes and BFIS appreciates the help we get from the Katie School of Insurance and Finance alumni with the Chicago programme, and in Atlanta from former BFIS President, Mark Lima of Arch and Georgia State University, as well of course from all the companies, many of whom have hosted our interns every year since the overseas programmes started."
"BFIS Trustee Terry Pimentel met with the interns at their briefing lunch last Thursday and emphasized the need to research both the companies and the people they would be meeting, and two of the 2015 interns, Tom Svensen [London] and Arthur Begeman [Atlanta] were also on hand to answer questions about what to expect and how to make the most of this opportunity.
"A presentation by all the 2016 intern groups will take place at lunchtime on July 21 at KPMG. Students interested in applying for the 2017 programmes are welcome to attend and should email BFIS at info@bfis.bm."

Read More About