Bermuda's Jah-Nhai Perinchief is ranked #1 in the world in the IAAF U/20 Men's High Jump listings, and the International Association of Athletics Federations [IAAF] cited him as a medal contender at the upcoming IAAF World U20 Championships in Poland, saying that while Bermuda has never won a medal in the event, that "could soon change."
The IAAF story said, "With a population of just over 60,000, it comes as no surprise that Bermuda has never won a medal at the IAAF World U20 Championships. That could soon change, though, as Iowa-based Jah-Nhai Perinchief jointly tops the 2016 world U20 list with a 2.26m lifetime best.
Screenshot of the U/20 Men's High Jump top list, with Perinchief jointly ranked as number one: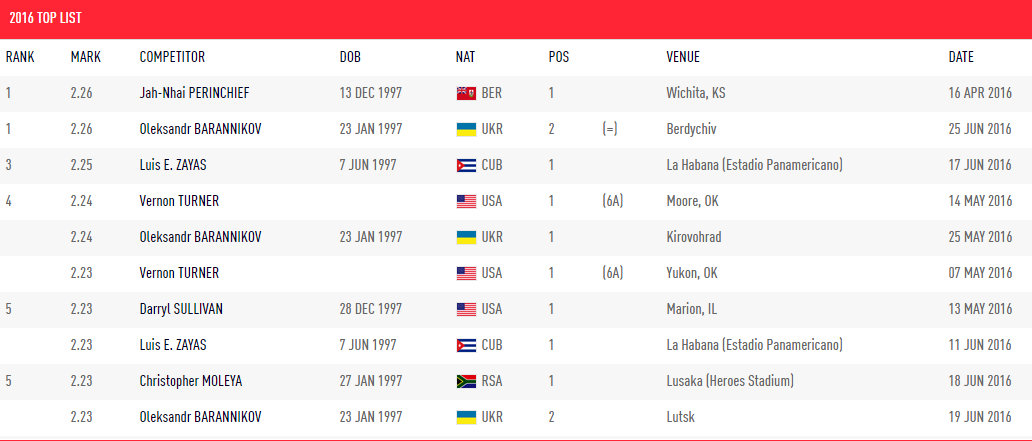 The IAAF go on to note that Bermuda "might be small in size," but we "have something resembling a high jumping tradition."
"Clarence Saunders holds the national record with a 2.36m clearance and finished fifth at the 1987 World Championships and 1988 Olympic Games," the IAAF said.
"Saunders' national record, which dates back to the 1990 Commonwealth Games in Auckland, might not be on Perinchief's compass just yet but the 18-year-old has already erased his national U20 record.
"Perinchief shares the lead on this year's world U20 list with Ukraine's Oleksandr Barannikov who cleared 2.26m in his most recent competition. The 19-year-old, who claimed a bronze medal at last year's European Junior Championships, was also second at the senior Ukrainian Championships."
The 2016 World U20 Championships in Athletics will take place in Bydgoszcz, Poland from July 19–24th and the IAAF said a total of 1518 athletes [832 men and 686 women] will be competing.

Read More About