News that Digicel Business & BTC are sponsoring youth triathlete Erica Hawley and youth sailor Rockal Evans, the Department of Workforce Development scholarship was awarded to 34 students, and Bermuda HealthCare Services increased its annual financial contribution to PHC to $20,000 were all some of the positive news stories from the past week.
In other good news, Bermuda's Jah-Nhai Perinchief is ranked #1 in the world in the IAAF U/20 Men's High Jump, Centaur Fund Services opened an office in Hamilton, Bermuda High School students achieved "outstanding" International Baccalaureate results, three Team Hurricane Basketball Academy players were invited to participate in Global Squad and Bermuda's Rugby Team defeated Turks & Caicos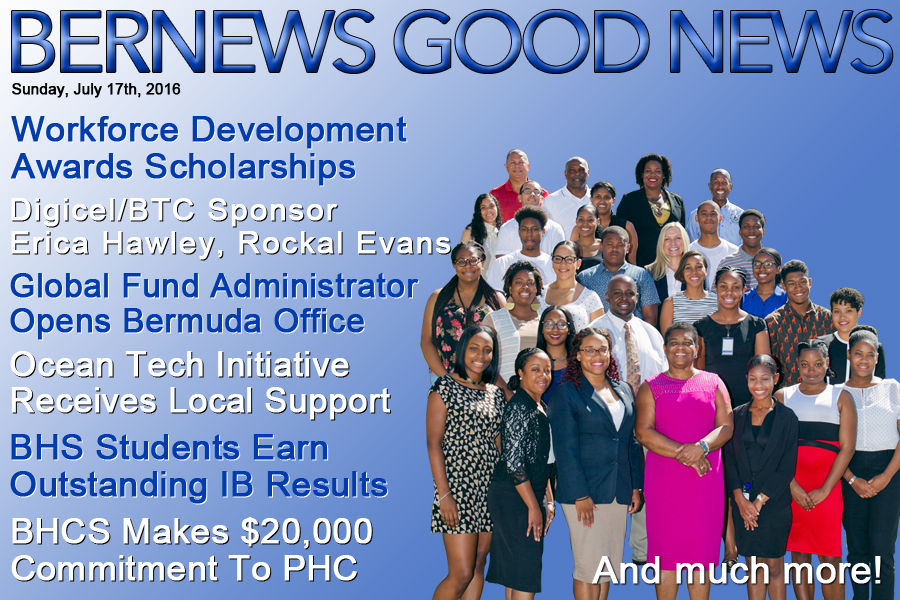 Additional good news stories included news that the Bermuda Tall Ships Festival will be in held in June 2017, the Bermuda Botanical Society will be awarding a $5,000 scholarship in honour of Edward Manuel, and Bermuda Container Line supporting the Bermuda High School's sloop expedition with a donation of $6,600.
We also posted various community photo galleries, including coverage of the opening of the Vineyard Vines store in Hamilton, the Evolution, Design Collection, International Designers, and Hair and Beauty shows at the Bermuda Fashion Festival, the 'Power of One' rally at TN Tatem, and The Kardias Debutantes presentation for those who successfully completed the 'Pillars of Philanthropy' programme.
In an effort to highlight some of positive news happening in our community, we supplement our standard morning and evening email newsletters with a special Sunday "Good News" email newsletter edition, which strictly focuses on the positive news from the past week.
You can sign up to have the free newsletter delivered via email here, and/or access the links below. In addition, for those who like positive news, please feel free to visit our sister site ForeverBermuda.com, which seeks to showcase the best of Bermuda as well as provide information and listings for visitor related services.
Links to some of the 'good news' from the past week are below:
Read More About